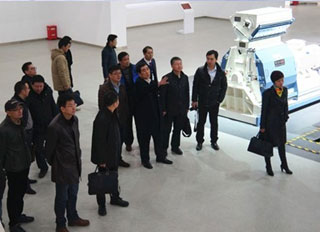 On January 15, the new generation of entrepreneurs held "Breakthrough and Innovation" Seminar in Muyang. Nearly 30 new generation entrepreneurs attended the event with the full reception by Muyang Chairman Li Minyue.
The new generation of entrepreneurs first visited the Technology Park showrooms and production workshop. They said they had heard of Muyang for a long time which is a strong and large-scale enterprise, and this visit made them heartfelt proud, as well as allowed these younger generations to make their career dreams.
Subsequently, the new generation of entrepreneurs and Chairman Lee launched the discussion on second floor conference room. Minister pointed out that the event aimed to "educate people around by typical example." Muyang had 40 years of development history, the district enterprises should learn from Muyang to learn "how to shock others from being shocked".
Chairman Lee listened the introductions from the new generation of entrepreneurs, and then shared them with three valuable experiences.
First, we must study diligently. Chairman Lee admitted that his achievement today did not rely on smart, rather than hardworking. He ever worked as shop workers, squad leader, workshop director, production chief, deputy director, no matter at what stage, others took a nap, he was commuting to work even without extra pay. Therefore, his success just took two years rather than three years. Lee at first graduated from middle school, chairman of Lee, than he tried all he can do to obtain an EMBA degree and he said that people needed to keep learning, lifelong learning.
The second is to continue to innovate. China's first grinder and mixer was born in Muyang, Chairman Lee had been involved in manufacturing. He said during the early time, Muyang was lack of design capabilities, and with old concepts, so it developed slowly and the scale was limited. But Muyang was keeping national macroeconomic policies, and learning advanced practices. Muyang gradually developed their own designers and technical personnel required to be close to the customers. So far, Muyang established a research and development pattern in Asia, Europe and Americas. Muyang developed more than 30 news products every year, improving 60-70 old products. He said this was to prevent others copying and plagiarism, and only by continuing to improve, Muyang could win customers.
The third is to have an international vision. Chairman Lee talked forthrightly he was asked to visit foreign companies many years ago but was shut out. He pointed out that internationalization was to enhance product quality, personnel quality, management level and core competitiveness. Currently, Muyang had 43 offices worldwide and dedicated to seize the international market.