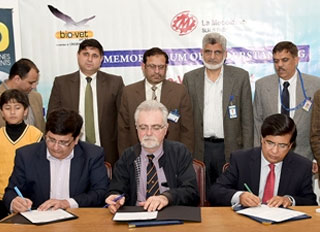 On February 18th the University of Veterinary and Animal Sciences of Lahore (Pakistan) signed an agreement with Bio-Vet (a Lahore-based Consolidated Food Solutions Company, Distributor of La Meccanica products) and La Meccanica to promote students training and research with special focus on poultry nutrition and feed production.
Under the agreement, La Meccanica will donate a pellet mill to the University, that will be installed at Ravi Campus to promote student exposure to the dynamics of poultry feed production. The University will share in-house research by students and faculty members with Bio-Vet and La Meccanica. The three parties will also cooperate in arranging seminars, workshops and exhibitions.
Speaking on the occasion, Vice-Chancellor Prof. Dr. Talat Naseer Pasha appreciated the Bio-Vet and La Meccanica for the donation, which he said will go a long way in promotion of research and training of the University of Veterinary and Animal Sciences. Ahmed Waqas, Bio-Vet CEO, lauded the role of the University in promotion of education and research. Roberto Reffo, La Meccanica CEO, expressed his desire of bringing this kind of projects in other areas as well.
Dr. Mustafa Kamal from the Pakistan Poultry Association, who was also present on the occasion, said that this agreement contributes to the growth of poultry industry in the country.