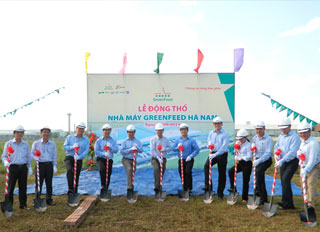 This morning Vietnamese feed producers GreenFeed celebrated the groundbreaking and start of construction of its newest feed factory in Dong Van 2 Industrial Zone, Duy Tien district, Ha Nam province.
With a total investment of USD$37 million, the total construction area measures 5 hectares. The new feed mill is one of the plans of GreenFeed for the expansion of its operating scale, increased competitiveness in the local Vietnamese feed market - with the objective to secure 20% market share of animal feed (4 million tonnes of feed) by 2020.
The company plans to reach 1 million tonnes of poultry feed, margin of 5%; Achieve 20% market share for swine breeds, yielding 24-32 pigs / sow / year; Develop business model for dairy foods; Improve the quality of poultry feed; and team building a world class workforce.
In the north, next to Hung Yen GreenFeed plant, the feed plant's operation will ensure the timely supply of goods to farmers, and increase the reputation and standing of the company in the area.
It is expected that Phase 1 of the GreenFeed Henan plant will be completed by June next year.