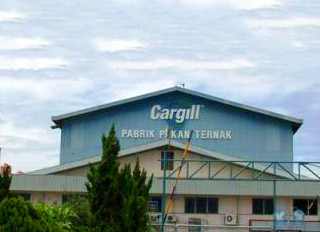 Cargill is looking to invest up to USD$1 billion to make it's entrance Indonesia's poultry industry. The move comes after the company just concluded the construction of its cacao-processing facility in Gresik, East Java, the first in Asia.
CEO of Cargill, David W. Maclennan, spoke during a visit last Tuesday to Jakarta on Tues that the company had spent up to USD$700 million these past four year, and had the potential to earmark another USD$1 billion for spending in the next three to four years.
He spoke that Indonesia was at the top of investment opportunities for Cargill in Southeast Asia, as well as in the top five in growth potential and top 10 in total assets out of 67 countries in which the company operates around the globe.
"[Indonesia] is one of the top opportunities for Cargill, given your population, your growing economy — which is projected to be the eighth largest economy in the world by 2030. When the economy is healthy and growing, people want to eat better," Maclennan said.
With the population and growing economy combined, he said that the US-based firm was eager to explore the country's increased disposable income, which is likely to be spent on consuming better food.
While refusing to name the most promising business line out of its five business scopes in Indonesia, emphasising that the company would invest in business that offers more opportunities and growth, he said that cacao and chocolate — in which it is a relatively new player in the country — and the palm-oil industry might be ones to explore.
He further added that Cargill would put aside a sum of the projected figure to enter the poultry business in the coming few years.
"We are interested in the poultry industry as a way to expand. The industry we are looking at, I think is the perfect industry at the perfect time for Indonesia," he said, adding that it might be too early for the company to further break down details on the investment.
"This might be not exactly correct but poultry consumption has doubled in around three or four years," he went on.
While Indonesia itself already has well-established poultry players that dominate the market — such as Charoend Pokphand and Japfa Comfeed — Maclennan said that the global firm was confident and comfortable in its future investment in the country, especially given its expertise in the industry and having been a prominent poultry player in numerous countries around the globe.
Cargill, which has been operating for nearly 150 years, made its first Indonesian entry through the animal-feed business in 1974.
The company's business in Indonesia currently comprises animal nutrition, cacao, grain and oilseeds, palm oil, as well as starches and sweeteners.
Among its latest Indonesian investment is a $100-million cacao-processing facility in Gresik, which commenced construction May last year and is to be officially launched on Wednesday.
The factory has the capacity to produce up to 70,000 tons of cacao per annum. More than half of its production will cater to the wider Asian market, with China becoming its top market priority.
Other investments include a $25-million animal-feed plant in Pasuruan, East Java, built last year. It has also disbursed $100 million to develop 10,000 hectares of sustainable oil-palm plantations in Mulut, South Sumatra, and $300 million to acquire a majority stake in a starches and sweeteners company in Pasuruan, East Java.
The US' largest privately held company booked $134.9 billion between July 2013 and June 2014, while its net earnings hit $1.87 billion.