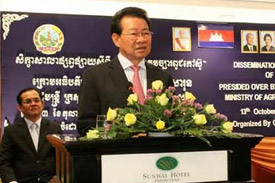 Cambodia's 1st Chinese feed mill was formally inaugurated on Sunday, bringing the number of feed mills operating in Cambodia to five, .
"The factory is a new achievement of good cooperation between the governments and the peoples of Cambodia and China," said Cambodian Minister of Agriculture, Chan Sarun at the inauguration for of the Sichuan New Hope Agribusiness (Cambodia), located in the Phnom Penh Special Economic Zone, approximately 18 kms west of the capital Phnom Penh.
"The mill is very important to boost the development of the country's animal feeding industry," Sarun added.
The minister of agriculture said that at the moment the demand for animal feed is roughly 700,000 tonnes annually, but Cambodia's current 4 feed mills are only capable of producing 170,000 tonnes per year, so the balance of feed is required to be imported.
The feed mill, Sichuan New Hope Agribusiness (Cambodia) is to be capable of producing roughly 57,000 tonnes per year, so it would grow the supply of locally manufactured animal feeds and reduce the reliance on imports.
Economic and Commercial Counselor of Chinese Embassy to Cambodia, Jin Yuan, said that the startup of the feed mill mirrored closer relation between China and Cambodia on investment and trade.
He further stated that China is the largest investor in Cambodia with the total investments of greater than $8billion USD thus far.
The Sichuan New Hope Agribusiness (Cambodia) is a JV between China based New Hope Group, one of China;s largest animal feed producers, who hold a 90 percent stake with Japanese animal feed producer, Sojitz Corporation owning the remaining 10 percent stake.
The building of the Sichuan New Hope Agribusiness (Cambodia) feed mill had been started early in 2011 on land totalling 33,500 square meters and was completed in July 2011, costing in total $6million USD.
The facility employs approximately 100 Cambodian workers.
"The mill has been equipped with sophisticated technologies and is capable to produce a good quality of animal food for pigs and poultry," he finished.