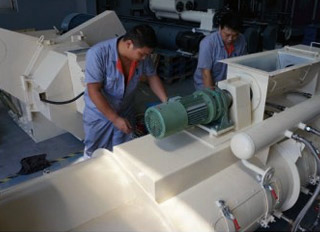 During the last years, ANDRITZ has experienced a positive business development and growth in Asia and we are continually strengthening our capabilities and services to our customers. ANDRITZ has several offices in Asia – in Vietnam, India and China. Each of these offices provides sales, services and complete plant solutions to our highly valued customers.
ANDRITZ India
The ANDRITZ office in Chennai India, has been the center of sales, project engineering, project management and after sales support all over India, Sri Lanka, and Nepal.
The office is headed by Mr. KP Angamuthu, who has more than 25 year of experience in designing and building feed mills in India. The office has capabilities of engineering, plant design, component sales, spares parts and service, which makes it a globalized local hub to deliver successful projects and customer support to the feed and biomass industries.
2014 – a busy year for ANDRITZ India
ANDRITZ In India has long proven its reliability and authority in the feed and biofuel industries and 2014 has especially been a busy year.
India is in a phase of rapid development in all major industrial sectors, especially in the feed and biomass industries. ANDRITZ India has been dedicated to matching this rapid development with the concept of costeffective and compact plant design through its highly efficient process machines, capable engineering team and able sub suppliers. In addition, ANDRITZ has offered a selection of output capacity in accordance to the customer's needs through optimized plant in terms of sizing and layout. Further, ANDRITZ has taken the responsibility of sustainable growth trough spare and wear parts and customer support.
As a result of this dedication, ANDRITZ has been rewarded with big projects from new as well as existing customers and we are proud to be the number one supplier for our customers and business partners.
ANDRITZ China
ANDRITZ China employs more than 220 people, divided between its various locations, which count three engineering locations and two sales, service and manufacturing sites. ANDRITZ China focuses its activities on supplying affordable state-of-the-art European technologies to the Chinese and Asian markets – providing high quality products with responsive, localized support and service.
New office facilities
ANDRITZ China has recently moved into new modern facility located in the European Industrial Park in Foshan.
Manufacturing facilities
ANDRITZ has manufacturing facilities in Shanghai and Foshan. Today, the Foshan workshop, including Sanshui, manufactures machines and components for all business areas of ANDRITZ AG. The total area of the workshop is approximately 68,000 m²., of which 26,000 m² are in the city center and 42,000 m² are in the Sanshui Manufacture Park.

Well-organized workshops area shows the positive effects of ANDRITZ quality control.
ANDRITZ China has during the past 8 years focused on transferring European technology to China. The clear target was to make this technology affordable, not only in China but all of Asia and to build a service network to support and service locally. Today, we can safely say this has been a winning strategy.
Latest technology transfer
2013/14 saw the introduction of ANDRITZ'largest aqua feed extruder into the Chinese market.
The Ex1250 a proven workhorse in Europe and South America was made and installed for the first time in China.
Huaian Tianshen Agri-Aqua Co., Ltd. One of the largest extruded aqua feed producers in Jiangsu was one of the first to adapt the high capacity extrusion technology for its range of fresh water floating feeds. With motor sizes up to 560 KW (800 HP) this machine can produce 15 to 20 tph extruded feeds.
Why high Capacity ?
It´s all about cost/ton
· Reduced Investment cost per ton, smaller foot print, building dimension
· Reduced installation costs
· Reduced energy cost/ton
· Reduced operational manpower cost/ton
· Reduced maintenance cost/ton.
Shanghai Shende Machinery Co. Ltd.
As part of the ANDRITZ growth strategy in Asia, Shanghai Shende Machinery was acquired by ANDRITZ Group and has been a member of the Feed & Biofuel Technologies division since 2013.
Shende has a long history and experience, since its beginning in 1993, and has proven its performance and reliability in the handover of multiple turnkey projects and product installations.
Shende is specialized in the production of equipment and machinery for animal feed, aqua feed and biofuel, as well as providing complete on turnkey project solutions. Shende offers engineering design, equipment manufacturing, installation, commissioning and all-round technical services for all feed and biofuel pelleting applications.
Shende has obtained the ISO9002 Quality System certificate issued by TUF, and has been awarded "Shanghai Hi-tech Enterprise" award. In addition to extrusion, pelleting equipment and systems Shende is a long established brand for quality pelletmill dies and combined with the Andritz Guangdong facility is today the largest manufacturer of quality high chrome dies in Asia.
ANDRITZ Vietnam
ANDRITZ has had its representative office in Ho Chi Minh City, Vietnam, since 2008. The office is headed by Mr. Le Quy Ninh and employs nine people that cover sales, logistics, engineering, startup and service.
The function of the office is to make contacts, communication, marketing and supply customers with ANDRITZ machinery as well as services in South East Asian countries & Bangladesh. Furthermore, follow up on international sales contracts,
consulting about commerce in Feed and Biofuel and promote the development of ANDRITZ business in the local area in accordance with Vietnamese Laws.
ANDRITZ provides equipment to the growing biomass industry in Vietnam
The biomass pelleting business in Vietnam started out in 2010 with some small scale factories located in the wooden furniture area in the South of Vietnam (binh Duong, Dong Nai provinces) using low quality Chinese or local made machine with capacity from few hundred kilos to one ton per hour. There are now approximately 18-20 major biomass pelleting factories with a capacity of more than 40,000 ton per year in Vietnam of which 12 factories are supplied with ANDRITZ machinery and equipment. This is more than 20 biomass pellet mills and more than 10 biomass grinders.
ANDRITZ installations in Vietnam ANDRITZ currently has a market share of 60% in the the biomass industry in Vietnam. Factories such as: Phu Tai Bio Energy (PBE) in Binh Dinh Province or Thanh Lam in Quang Ninh and coming UJU VINA
in Thai Nguyen Province are well-known in Vietnam with proper design, high quality/performance machinery and advanced technology from ANDRITZ.

Thanh Lam Wood Pelleting Plant located in Quang Ninh Province

ANDRITZ reference: Thanh Lam Wood Pelleting Plant
Thanh Lam Wood Pelleting Plant located in Quang Ninh Province, North of Vietnam. The plant has a capacity of 12 tph. ANDRITZ has delivered the following equipment for the plant:

Engineering services
- One wet grinder HM43606
- One fine grinder Multi mill 1400
- Three PM30 pellet mills
- The project started in December 2014 and the plant started it's commercial production in January 2015.
Future prospects of the industry
In 2015 and the years ahead, the biomass industry in Vietnam is expected to have a new trend of development with several large-scale project from foreign investors and ANDRITZ is proud to contribute to the further development of the successful of the industry. With our Representative Office in Vietnam, ANDRITZ can quickly and efficiently provide our customers in Vietnam with the EU standard engineering machines, technologies and good service.
ANDRITZ Feed & Biofuel Technologies