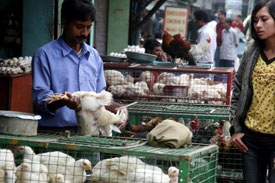 India - The domestic poultry industry is heaving a sign of relief as drop in soyameal exports in the last six months has stabilised prices just ahead of summer season, when demand for non-vegetarian food usually falls.
Poultry industry sources said wholesale prices of live weight broiler or chicken in Delhi has declined marginally by Rs 8 per kg in the last two months largely due to fall in feed prices.
Poultry feed prices which largely comprises of soyabean meal and corn has declined from Rs 19,000 a tonne to Rs 17,000 per tonne in two months.
Traders said poultry prices have started moderating because of steep decline in soymeal exports as compared to last year over reports about bumper harvest in Brazil and United States.
According to data released by the Indore-based Soyabean Processors Association (SOPA) last week, soymeal exports in February had dropped by 43% to 2.1 lakh tonne against 3.8 lakh tonne during the same month last year.
Many countries including China , Europe, Malaysia and Middle East did not place any order for Indian soymeal last month.
"Stable feed prices would also help in keeping prices of chicken and eggs during the coming summer months," Ricky Thapar, spokesperson for Poultry Federation of India told FE.
According to PFI, egg prices have also started moderating in Delhi.
Wholesale egg prices in Delhi have declined to Rs 2.35 per piece on Tuesday from Rs 2.83 per piece prevailing in January. While, retail price of egg has dropped to Rs 40 a dozen from Rs 45 in January.
Out of the total estimated annual soyabean production of 9.5 million, around 20% is used for extraction of oil and 0.5 million tonne used for seed.
Out of 6.5 million tonne of soymeal, 3.2 million tonne is supplied to domestic livestock feed and rest is exported.