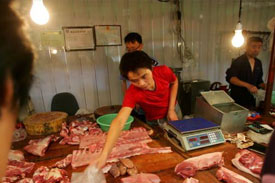 China, the world's biggest meat producer, has invoked a contingency plan to keep domestic prices of pork from sliding and destabilizing hog farming.
Government agencies "will take measures according to changes in the markets to ensure prices remain basically stable," Yao Jian, spokesman at the Ministry of Commerce, told reporters today. He didn't elaborate on the steps being taken.
Pork prices in China have dropped 9 percent since January, Yao said. The decline caused losses for farmers and forced some to kill their animals prematurely, worsening the slump. Price- supporting measures may stop a slide in hog inventory and boost sales of animal feed including corn and soybean meal.
"Measures by the government will have some impact, but we'll have to see how the farmers react as some may not decide to add hog inventory for a while," said Yang Yumei, general manager of feed mill Zhengda Group Co., by phone from Guangdong.
As of the end of February, the live-hog inventory fell 2.6 percent from a month ago to 443 million head, 0.6 percent lower than a year ago, the Ministry of Agriculture said in a statement today. The number of breeding sows rose 0.4 percent from January to 49 million head, it said.
China established a policy last year stating that if the price ratio of hogs and feed grain fall below a series of predetermined marks the government will invoke emergency measures including stockpiling frozen pork.
Prices are still 11 percent higher than last year's low in June, Yao said, without elaborating.
Demand for soybean meal in China, the world's biggest importer of soybeans, may increase in the second quarter, boosting consumption of the oilseed, Helen Huang, analyst at Shanghai JC Intelligence Co. said yesterday.
On the Dalian Commodity Exchange, soybean meal rose for the first time in five trading sessions on expectation of recovering hog prices. Contract for September delivery gained 1.1 percent to 2,774 yuan ($406) a metric ton.