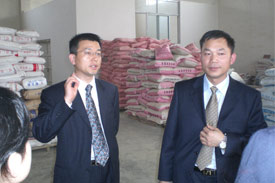 Chinese animal feed and pork producer AgFeed Industries Inc. said Tuesday its 2009 revenue rose 20 percents, and its shares rose.
The company said its revenue for the year totaled $173.2 million, helped by higher revenue in both nutrition and hog production.
Its operating earnings totaled 31 cents per share, AgFeed said. Production volume rose 66 percent in both the hog division and the animal nutrition division.
AgFeed shares rose 38 cents, or 8.4 percent, to close Tuesday at $4.89. The stock has traded between 92 cents and $7.96 over the past year.