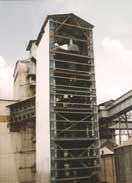 India - State-owned Kerala Feeds Limited (KFL) is set to commission its new Rs.35 crore unit at Karunagapally in Kollam district in six months, Animal Husbandry Minister C. Divakaran said.
"We are laying the foundation stone for the factory tomorrow and it would be commissioned in six months" time. It would be a state-of-the-art factory with imported machinery, which is capable of producing 300 metric tonnes of cattle feed daily," Divakaran said.
KFL has a unit in Trissur, which produces 650 tonnes of cattle feed daily.
The new unit, coming up in Divakaran"s constituency, is the first state-owned unit to open during the current tenure of the Left government which assumed office in May 2006.
"The present unit of ours operates at 95 percent capacity daily and since there is a huge demand for our product, we are certain that our new unit will have a similar workload. Around 200 new jobs will be created in the new unit" said M.Suresh Kumar, the managing director of KFL.