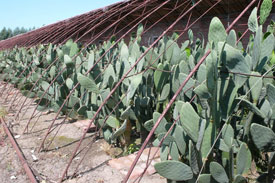 China Kangtai Cactus Biotech Inc., a vertically integrated grower, developer, manufacturer and marketer of a variety of cactus-based products in China, announced today that revenues from two new products launched in the fourth quarter 2009 have exceeded initial sales estimates.
By the end of 2009, the company's new patented cactus hog feed had generated sales of approximately $386,000 compared with the company's initial expectations of $330,000. Kangtai hog feed is sold in China mainly through Heilongjiang Boli Jinhai Linzhi Feed Ltd. and Jiamusi Jinfeng Feed Co. Studies of animal nutrition and immunology indicate that cactus-derived feed provides nutrition, boosts immune systems and prevents inflammatory illnesses.
The company's two new cigarette products, low nicotine and zero nicotine cigarettes, generated sales of approximately $316,000 in the fourth quarter of 2009. Kangtai previously estimated that its cactus cigarettes would add approximately $220,000 to fourth quarter 2009 sales. The two cigarettes are sold in China mainly through Tianwei Cigarette Co. - Harbin Branch. The low nicotine cigarette lowers tar and nicotine content by 70%. The zero nicotine cigarette, which is made without tobacco, eliminates nicotine and greatly reduces harm related to secondhand smoke, but offers taste and enjoyment equivalent to regular cigarettes.
China Kangtai CEO Jinjiang Wang said, "We are excited to see the strong initial acceptance of both our cactus hog feed and cactus cigarette products. Both market segments show huge potential for growth for our company. China has about 390 million smokers and is the world's largest consumer of pork. Following the successful launch of our cactus cattle, fish and hog feed, we plan to launch a poultry feed product in 2010. The estimated sales for all four of these animal feed products are $4.4 million in 2010."