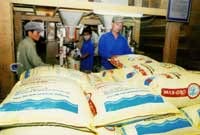 Ha Noi, Vietnam — Agricultural officials and farmers have criticised a decision to increase import tariffs on raw materials for animal feed from next month.
The Ministry of Finance has published a circular saying tariffs on such goods as maize, corn, soybeans and powdered fish will rise between 5 to 15 per cent.
The decision aims to reduce Viet Nam's dependence on the raw materials for making stock feed, which makes up 70 per cent of the total products sold - and, hopefully, also boost the production of local raw materials.
The Viet Nam Animal Feed Association's chairman, Le Ba Lich, said the rise in costs would cause the prices of food and other goods to rise.
"I think it's such an unreasonable and unacceptable decision. Farmers will be the first victims of the upcoming price hike," Lich said. "The ministry should consult us before promulgating the decision," he said.
Do Van Quan, a farmer from Phung Cong Commune in northern Hung Yen Province, said he had to spend hundreds of millions of dong for animal feed to raise nearly 1,000 pigs each month.
"This year is very harsh for us. The cost of materials keeps rising due to the upcoming Tet holiday. Soybeans and maize have increased between VND1,000-VND1,500 per kilo since last month," Quan said.
"A 5 per cent rise of the import tariff will become at least 10 per cent when the goods are delivered to our farm. We are bound to lose," Quan said.
At present, the price of animal feed has increased between 10 to 15 per cent compared to last year. Chicken feed has gone up by VND3,500 to VND5,200 per kilo and pig feed by VND6,900 per kilo.
"Another 5 per cent tariff increase will wipe out my profits," said Nguyen Van Tam who has 8,000 chicken on Cat Que Commune, Hoai Duc District in Ha Noi.
The head of the Animal Feed Association, Lich, said there could be another price hike in the early months of next year as animal feed factories would be forced to increase their prices or face the risk of bankruptcy.
He said the association would propose reducing import tariffs to zero to assure farmers did not lose.