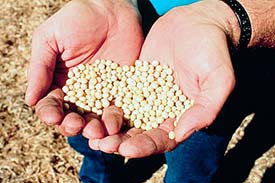 An eleven-member US trade team has arrived in the Philippines, hoping to regain its top spot in the country's imported soybean meal market. Besides promoting the use of their products among Philippine poultry and hog farm operators, the group will also hold discussions with feedmillers and other industry players.
The visit comes at the heels of reports indicating that the US's share of the Philippines' soybean meal imports have fallen to 26 percent from the previous 65 percent. Argentina currently provides 69 percent of the Philippines' soybean meal imports, with India and Brazil providing four and one percent, respectively. The commodity is used to provide protein in animal feeds, comprising 20 to 25 percent of the feed formula. In the meantime, corn takes up 50 to 60 percent of the formula, providing the carbohydrate component. The Philippines produces an estimated 7.5 million metric tons (MTs) and imports an additional 1.5 million MTs of the commodity.
However, the country was prompted to cut soybean meal imports this year after the local poultry and livestock industry was nearly wiped out by a series of destructive typhoons. The group is composed of soybean farmers, board officials, shipping agents, and traders. The team, which arrived on Thursday and will stay for five days, is headed by Glen Heitritter a top level official of Ag Processing Inc., the biggest soybean meal exporter in the US. The group is also mulling the export of corn and dried distillers grains (DDGS) – also used as feedstock – to the Philippines.