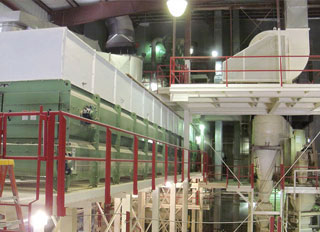 Construction has commenced on Peco Food's USD$165 million poultry project in Northeast Arkansas.
Dirt work on the new feed mill located in Corning, Arkansas started on May 22, with construction beginning on June 15. The feed mill is expected to be completed within 18 months.
Construction on the poultry processing plant is planned to commence on Sept. 1st.
The fully integrated poultry complex is expected to open in 2016. The 165 million dollar project includes a 255-thousand square-foot processing plant and a 73-thousand square-foot hatchery in Pocahontas and a feed mill and state-of-the-art water treatment and protein conversion facilities in Corning.
Peco Foods currently operates a plant in Batesville and operates a feed mill in Newark. The company is the eighth largest poultry processing company in the United States and processes about 24 million pounds of poultry each week.