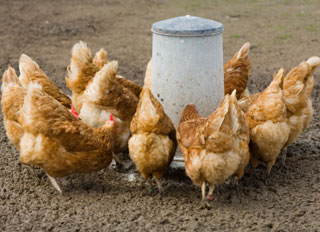 The Food and Drug Administration (FDA) on July 26 submitted proposed animal feed safety rule changes to the White House Office of Management and Budget (OMB) for review. Those changes would establish current good manufacturing practices (CGMPs) and hazard analysis and risk-based preventive control requirements for facilities that manufacture and distribute animal feed and pet food.
OMB's review and pending approval will allow FDA to publish revised requirements and seek additional stakeholder comment on its proposed rule originally issued on Oct. 29. The initial proposal was made in response to the new food/feed safety regulations mandated by the Food Safety Modernization Act (FSMA). The rulemaking is significant to NGFA-member companies involved in the production and distribution of animal feed and pet food, as well as those involved in the storage of raw agricultural commodities, such as grains and oilseeds, since such products may be distributed for use in animal feed and pet food.
FDA's actions to revise major aspects of the proposed rule and provide for a second comment period align with recommendations made by the NGFA in its extensive statement previously submitted to the agency in response to the original proposal. In the statement, the NGFA urged FDA to make available for comment a revised second draft of the proposed rule due to the very significant nature of the proposed requirements and NGFA's belief that major changes were needed to conform to FSMA's statutory language and to provide sufficient flexibility to allow facilities to adopt animal feed and pet food safety practices that are practical and effective for their specific, individual operations.
FDA officials have told the NGFA that the revisions to the proposed rule will address several major issues, including:
Definition of "Holding" (Storage): FDA will propose a revised definition for "holding" that applies to facilities that store food, including grain elevators that store grains and oilseeds. This definition is important because the activities encompassed within the "holding" definition will determine whether and to what extent FDA's final requirements will apply to grain elevators and other storage facilities.
CGMPs for Animal Feed and Pet Food: The agency will propose significant changes to the rule's CGMP requirements that would apply to animal feed and pet food facilities. The CGMP requirements initially proposed by FDA essentially mirrored those that currently are established for human food.
Scope of Preventive Controls: FDA will propose changes to certain definitions associated with its preventive control requirements in an attempt to better clarify to what extent the agency expects the proposed requirements to apply.
Human Food Co-Products: FDA will propose and seek comment on revised requirements for facilities that distribute co-products for use in animal feed and pet food that are generated from manufacturing human food products.
Product and Environmental Testing: The agency will propose product and environmental testing requirements for animal feed and pet food facilities. Such requirements were not part of the agency's original proposed rule.
Domestic Supplier Verification Activities: FDA will propose new provisions that would require facilities to conduct verification activities to ensure the safety of raw materials and ingredients used in animal feed and pet food that are received from domestic suppliers. The agency previously had proposed such requirements for U.S. importers of food, animal feed and pet food products received from foreign suppliers under its proposed rule for foreign supplier verification programs.
Definition of "Very Small Business": FDA will seek additional comment on how to define within its rule a "very small business," which would be subject to reduced and streamlined preventive control requirements. FDA's initial proposal on how to define a "very small business" was based upon annual dollar sales of animal feed and/or pet food by a company. In particular, the agency is interested in receiving comments on how the "very small business" definition should apply to facilities that distribute, but do not sell, animal feed to contract livestock and poultry growers.
FDA officials indicated that the OMB review of the revised proposed rule may be completed as early as Aug. 15. If so, publishing of the proposal in the Federal Register would take place shortly thereafter. It is anticipated that FDA will provide a 60- or 75-day period for stakeholder comment after publication.
FDA is under a court-imposed deadline to publish its final rule for animal feed and pet food by Aug. 30, 2015.