New Vision Cooperative's new feed mill is set to start production today. The feed mill which will be the company's fifth, was built at a total cost of USD$17 million.
Located in Magnolia, Arkansas the feed mill will supply customer in a 150 mile radius of the plant.
The co-op formed in 1999 currently operates five feed mills located in Worthington, Mankato, Windom, and Courtland, and manufactures bases and concentrates, complete feeds and starters for swine, dairy, equine, beef, sheep, and poultry.
New Vision General Manager, Frank McDowell explained that the need for additional feed milling production capacity was clear in the mid 2000s, with New Vision's feed division growing steadily over the years.
The project was started back in 2006, when the board started to look for a suitable site for the new feed mill. Looking for a site good transportation links, available local raw material supplies, and an accepting local population.
The current site at Magnolia, Arkansas was chosen and purchased in 2007. In 2009 the co-op began planning of the design of the feed mill, finishing the design and choosing a contractor sometime in 2011.
Younglove Construction of Sioux City, Iowa, was chosen as the general contractor for the construction of the feed mill, with ground broken at the site in the middle of 2012.
Talking about the new feed mill, McDowell said "There's a lot of potential feed growth for the business … and it should take some production pressure off of Windom and Worthington, which has been a good thing for employees who have been under a lot of stress the last four years."
For the construction of the feed mill the co-op recieved a low-interest loan of USD$740,000 from USDA rural development, to assist in the construction of the new feed mill.
New Vision's Magnolia feed mill has a production capacity of 120 tonnes of feed per hour.
The feed mill utilises 2 60 tph RMS rollermills for grinding. Batching and mixing operations at the new feed mill consists of eighteen major ingredient batching screws, four minor scale batching screws, and four 12-bin micro ingredient systems.

Mixing at the feed mill is done by a 6-tonne Scott Equipment twin shaft mixer. There is a 40 tph pelleting system which will produce compound feeds at the plant.
See below for some progress photos of the construction of the feed mill.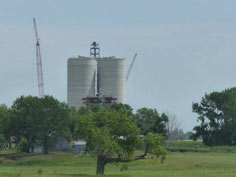 The New Vision Feed Division is a full-service feed supplier that produces bases and concentrates, complete feeds and starters for swine, dairy, beef, sheep and poultry