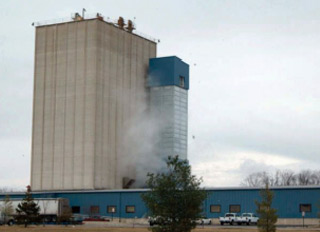 Indiana based swine feed milling company Maxwell Milling of Indiana, will receive a $35,000 Economic Development Income Tax (EDIT) grant from the Economic Development Corporation (EDC) of Wayne County to go towards the expansion of their feed mill plant located in Hagerstown, Indiana.
Maxwell Milling of Indiana, a division of Goldsboro Milling Company, plan to invest a total of USD$1.7 million for the upgrade of the facilties which will increase production capacity at the plant from 3,200 tonnes of finished feed per week to 5,000 tonnes per week.
The expansion project will include the construction of a 24x70 foot receiving building with two 125,000 bushel grain storage bins, along with the purchase of various bin loading and unloading equipment.
The expansion will benefit both, the company who will have the ability to expand their market in the state of Indiana, and local farmers who currently supply their grain to the feed mill.
Maxwell Milling, established in 2006 with the purchase of an established feed mill from Archers Daniels Midland Co, is a family owned swine feed production and feed delivery facility supplying finished feeds throughout the state of Indiana.
The Hagerstown feed mill originally built in 1996, had a production capacity of 2,400 tonne per week when purchased by Maxwell Milling of Indiana.
The feed mill was first upgrading in 2006-07 with the company contracted Port-Land Systens Inc to help increase capacity at the feed plant.
The first upgrade including installing a Repete control system for all operations in the mill, as well as the installation of a downstream fat coating system.
In following years a number of upgrades were then made to bring the feed mill up to its current production capacity. These upgrades included replaceing the pair of 200-hp CPM 3022 pellets mills with 400-hp CPM 7932 pellet mills, effectively doubling pelleting production capacity. Installing a 40 tph rail receiving leg, a pair of Bliss coolers, Kice fans, and upgrading the 250-hp Cleaver Brooks boiler to a 350-hp one.