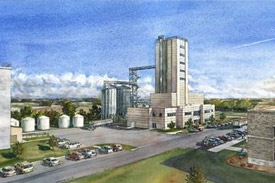 Construction has begun on Kansas State University's O. H. Kruse Feed Technology Innovation Centre, with the facilities due for completition in mid-2013.
The centre will act as the new base for it's feed science and management program, which has equipped almost 700 graduates to meet the needs and enter the US feed milling industry during the past 60 years since the feed industry assisted to set up the program at K-State. Additionally, several thousand US based and forign feed industry professionals have took part in educational short courses and seminars given by the program.
The faculty members have been a source of problem figuring out along with new technological information throughout the course's history. The program has been fortunate enough to have a dedicated teaching and research feed mill to use on campus for student, faculty and customer use. Although remodelled and upgraded several times, the present feed mill has far outlived its useful lifespan and will at last be replaced.
Kirk Schulz, K-State President said "The new feed technology innovation center is one of K-State's top priorities as we work to become a top 50 public research university by 2025,"
"We are enthusiastic about the new facilities, which will benefit the industry as well as our students."
The Kruse family of Goshen, California, provided the principal gift of $2 million USD to honor the company's founder, O. H. Kruse, and to emphasise how essential the educating and preparation of the next generation of feed industry professionals is. The state of Kansas, Kansas Bioscience Authority, Kansas State University and its College of Agriculture are set to provide an additional $10 million in funding required for the new facility. Additional cash and in-kind machinery donations provided the remaining resources required for the construction and equipping of the centre.
"The decision to build a single facility and combine feed-related activities of the departments of grain science and animal sciences was made to gain efficiencies and synergies for the benefit of the teaching, research and outreach programs of both departments and the College of Agriculture," said interim dean of the College of Agriculture and interim director of K-State Research and Extension, Gary Pierzynski.
What is forecast to in the end become a $15 million USD educational centre, it will include a state of the art, automatic 5t/h production and educational feed mill along with a biosafety level 2 educational and research feed mill, referred to as the 'Cargill Feed Safety Research centre'. The centre will be configured so that scientists will be allowed to not only safely work with low-virulence pathogens like salmonella in feeds, but also utilise the centre for other research, and educational and outreach activities. The facility will boast a 1t/h CPM pelleting system equipped with a Wenger High Intensity Pre-Conditioner, Loss-in-Weight feeder system and a Bliss counterflow cooler.
Schulz explained, "The new feed technology innovation center is another way K-State is demonstrating it can support the U.S. Department of Homeland Security's National Bio and Agro-Defense Facility being built in Manhattan,"
Among the important operating principles will be that almost all of the labour will be done by student employees, and several of those will be allowed to adopt supervisory roles during their college careers. That will be exceedingly appealing to potential employers of these graduates.
The preliminary design and cost approximations for the new feed technology facility were conducted by Younglove Construction, of Sioux City, Iowa. McCownGordon Construction, of Kansas City, Missouri, have been chosen as the design-builder and ASI Industrial, Billings of Montana, will slip the tower and set up the production equipment. Other firms on the team are made up of Treanor Architects of Lawrence, Kansas; Orazem & Scalora Engineering of Manhattan, Kansas; Schwab-Eaton of Manhattan, Kansas; and Bob D. Campbell & Co. of Kansas City, Missouri.
The O. H. Kruse Feed Technology Innovation Centre will be the home to feed production equipment that will enable in-depth instruction of operational principles. For instance, the centre will have a full-sized Bliss Industries hammer mill and a RMS three-pair high roller mill for grinding research, teaching and production. The 5t/h CPM pellet mill in the main mill tower will be equipped with a Bliss Industries counterflow dryer/cooler to allow research involving higher levels of moisture for pelleting research.
The main tower will be equipped with two different batch mixers: a 1 ton Hayes & Stolz twin rotor mixer and a 1,000lb Forberg twin shaft paddle mixer that can be used for mixing studies and to provide specialty feeds on demand. Adequate space has been configured into the facility to enable the addition of additional equipment in the future. Likewise, a projected feed science and education wing that is to house laboratories, offices, meeting rooms and a modern pet feed research centre will be part of a 2nd stage of the project.
Throughout its existence, the feed science and management program at Kansas State University has given critical research support to the feed industry. Equipped with the new feed innovation center, research capability is expected to be greatly enhanced. There is without doubt that food/feed safety is now one of the most critical issues confronting feed producers. All the same, energy efficiency, environmental issues, feed quality and nutritional performance will all go on to be significantly important to the feed industry and call for further research.
K-State is not only making a substantial investment in this new centre, but also hiring a new feed science faculty with the expertise to carry on groundbreaking research and transfer new technologies and knowledge to the feed industry. The new O.H. Kruse Feed Technology Innovation Center will accommodate just about any kind of processing research and data acquisition that is required by an industrial client or university scientist making use of the new research center.