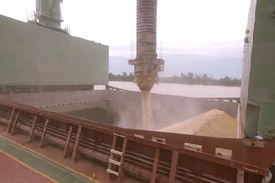 Cargill are set to increase their Eastern Colorado grain handling capabilities in agreeing to purchase certain assets of TradeOne, LLC, a merchandising and grain storing firm. The terms of the purchase agreement were not made public.
Effective on the 11th June, 2012 pending completion of all parts stated in the merger agreement, Cargill are set to take over complete possession and operation of the previous TradeOne grain elevator in Cheyenne Wells, which includes 2 million bushels of warehousing capacity. In addition to this, Cargill will initiate, store and trade grain at the previous TradeOne grain elevators in Lamar, Granada, and Holly, Colorado and in Tribune, Kansas. Stated in the agreement, the forementioned 4 grain elevators will be possessed and operated by Northern Ag Service, Inc., which will carry on daily business. Cargill will buy grain from these sites and act as the primary liaison for buyers.
"This agreement enhances our ability to serve producers in Eastern Colorado," Cargill AgHorizons farm service group leader for the Great Plains region, Barry Bauer said. "The addition of these assets into our existing grain handling network adds significant storage capacity and convenience for local growers during the busy harvest time."
Cargill have been a big part of the Cheyenne Wells community since 1989, and they will carry on to provide producers across the community a diverse portfolio of grain commercialising contracts, risk management products and consultatory services to assist them in succeeding.
"Cargill is committed to growing with our customers in Eastern Colorado," Bauer said. "With this agreement we look forward to continuing to earn their business." he finished with.