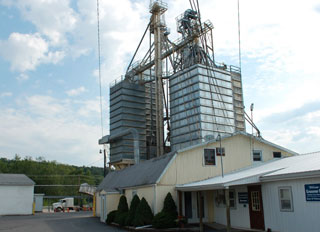 Feed a feed company started in 1947, specialising in organic and non-organic feeds is preparing for the opening of their new organic feed mill - NBO mill.
The company has spent several million dollars, replacing their original 1947 built feed mill and replacing it with the new computerized feed mill.
Kreamer Feed, manufacturers of the brand 'Nature's Best Organic Feed' will be produced at the NBO mill, which will be used exclusively for the production of organic feeds.
Work began on the site late last year, and the first concrete was poured on site in January of this year.
Vice President of Kreamer Feed, Jason Robinson, said "We used the original mill, which was our first production facility, up until a month ago."
The new organic feed mill will allow the company to more than double their production of organic feeds will also improving efficiency.
The company operate a seperate feed mill for the production and sales of other non-organic feeds.
Talking about the project Robinson said "It's the biggest project we've ever done and shows the commitment we have."
Company officials will unviel the new feed mill to the public in an open house, to be held on the 24th of October from 11am to 4pm. State Lt. Gov. Jim Cawley is scheduled to attend the event.