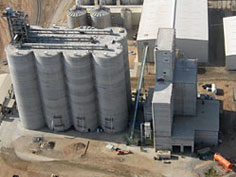 Pacific Ethanol has had a tentative map for parcel map split request approved by Madera County Planning Commission, in Madera County, California. Getting closer to their goal of finding a buyer for the granary and feed mill next to their idle ethanol plant.
The granary and feed mill have been closed since the beginning of the 2009 when the ethanol plant closed down, it had only been operating for less than three years.
Rather than just operate the granary and feed mill to feed the ethanol plant, Pacific Ethanol are looking for a buyer with expertise in grain handling and feed production, who will better utilise the unused capacity of the plant.
Pacific Ethanol spokesperson Paul Koehler, explained that the idea was not to dispose of the facility to raise cash, but instead to invite an operator to participate in a business deal.
He said it was hopefully a step for the company to reopen the Madera Pacific Ethanol plant.
The company said at this present time they are not working with a buyer for the granary, although operating a granary separately from the ethanol plant "is a model used by others in the Midwest and makes sense.
"We need to find the right player to work with," Koehler added.