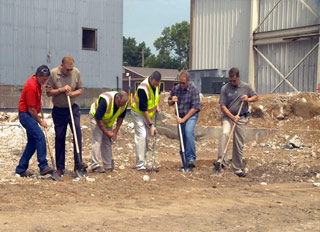 Ground was broken on Wednesday on the Farmers Coop Society's new USD$14.75 million feed mill, in Boyden, Iowa.
Officials say this is the biggest project in company history, and will have the ability to manufacture up to 3,200 tonnes per day, of which 1,000 tonnes will be in the form of pellets.
The co-op currently runs five feed mills in Boyden, Ireton, Sanborn, Sioux Centre, and Lime Creek. The capacity of this new feed mill will be more than all their current feed production locations combined.
"For us to be able to maintain safe feed, high quality feed, efficient, cost-effective feed production, we're going to have to upgrade our facilities," said Farmers Cooperative Society feed manager Brad De Vries.
"And so, we've done a lot of planning over the last year-and-a-half and came to this point."
With its feed business continuing to grow, the co-op had said it has been planning for more milling capacity for the past year and a half.
"We have focused on where the feed industry is moving in the future. The mill will be state of the art and allows FCS to capitalise on new business opportunities within the industry," Farmers Coop Society feed manager Brad DeVries said.