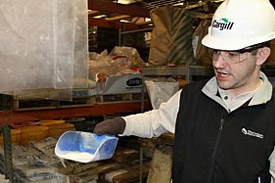 Cargill 's feed mill in Wooster, Ohio has been awarded the accolade of Feed Mill of the Year by the American Feed Industry Association AFIA and Feedstuffs publication.
The feed mill started operations in 1994 and outputs approximately 42,000 tonnes of animal feed per year, this is split between bagged and bulk feed, and includes feed meals, compound pelletised feeds and textured feeds.
Over the previous 3 years, the feed mill invested more than $1 million USD of corporate funds in capital betterment projects, which included the fitting of a new pellet conditioner. The new pellet conditioner does a improved job of retaining and conditioning feed starch, in turn improving digestibility and the feed value.
The feed mill has also increased its floor space and added several other new features, which included a dust collection system which brings down the volume of dust particles present in the atmosphere when the feed is bagged.
Warehouse operator, Gary Cline, has worked at the mill since it's opening in 1994. He said, the mill is young compared to other feed mills in the region, but is always changing and developing in order to produce a better feed, and meet any new demands.