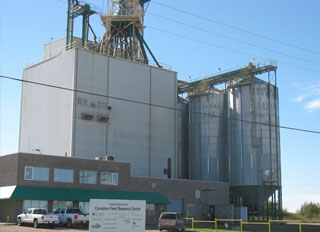 The University of Saskatchewan and its partners officially opened the Canadian Feed Research Centre (CFRC) in North Battleford today, highlighting the many research and training opportunities this unique facility will provide for Canada's crop and livestock sector.
The $13.9-million feed research centre is a major Canada Foundation for Innovation (CFI)-led project and a partnership with the Saskatchewan government, Cargill's animal nutrition business, and Western Economic Diversification. The centre will research, develop and commercialize new and better high-value animal feeds derived from low-value crops and co-products of bioprocessing and biofuels industries.
Estimates are that increased feed processing from CFRC activities will contribute more than $2M to Canada's gross domestic product through direct benefits to the crop and livestock industry and indirect benefits through employment.
"Thanks to the university's partners in government and industry, this national feed research centre is one of the most advanced and diverse in the world—the only one with both pilot-scale and high-volume commercial processing production lines," said Karen Chad, University of Saskatchewan vice-president research. "This means that promising lab discoveries can move quickly from pilot-plant testing to industrial-scale research—a major advantage in attracting commercialization activities and engaging industry."
Building upon the university's signature area of research titled agriculture: food and bio-products for a sustainable future, CFRC researchers will add value to low-quality crops, improve nutrient availability to animals, reduce antibiotic use, and develop enzymes and other bioactives or nutraceuticals to maintain animal health and improve feed efficiency.
Both graduate and undergraduate students will participate in the research, gaining advanced training for careers in the feed and livestock sectors.
The centre is the first of its kind in North America to install new seed-sorting technology that promises to maximize value, quality and safety.
"Feed accounts for 60 to 70 per cent of the production costs of animal protein such as meat, milk and eggs," said Tom Scott, University of Saskatchewan Research Chair in Feed Processing Technology. "The centre will research the use of processing to improve conversion of low-quality and highly variable ingredients, such as feed grain or co-products of bioprocessing, resulting in safe, high-quality animal feed and providing value to both producers and consumers."
Funding includes $5 million from the Government of Saskatchewan, $4.88 million from the CFI, $2.46 million from Cargill, $911,544 from Western Economic Diversification (including the seed sorter), and $600,000 from University of Saskatchewan and its suppliers.
Quotes from partners in the feed research centre:
Government of Canada: "Our Government's top priority is economic growth and job creation," said Agriculture Minister Gerry Ritz. "The technology and capacity for advanced research at the Canadian Feed Research Centre will keep Canadian producers on the cutting edge, generating greater profits, jobs and long-term economic development."
Government of Saskatchewan: "The Government of Saskatchewan is pleased to support the establishment of the Canadian Feed Research Centre," said the MLA for North Battleford, Herb Cox, on behalf of Saskatchewan Agriculture Minister Lyle Stewart. "This important research and training initiative supports the goals in our Saskatchewan Growth Plan and is a welcome addition to our vibrant agricultural sector."
Canada Foundation for Innovation: "When you bring together researchers and their industrial and provincial partners under one roof, innovation is bound to happen," said Gilles Patry, president and CEO of the Canada Foundation for Innovation. "Working in state-of-the-art labs, these unique teams will find real-world solutions for Canada's agriculture and livestock sectors."
Cargill: "The University of Saskatchewan's new Canadian Feed Research Centre provides an important partnership that offers a broad range of research scale capabilities—from a laboratory, to a pilot plant, to industry-scale research—which is a major advantage in attracting commercialization and engaging our industry," said Jennifer Henderson, managing director of Cargill's animal nutrition compound feed business in Western Canada. "The University of Saskatchewan and Cargill have a longstanding relationship and both invest in communities where we are located. We are proud to be associated with the university and look forward to the capabilities the centre will offer to the animal feed industry."
The CFRC has stand alone equipment and two scales of operating lines. The Pilot Scale Line (PSL) is 2 tonne/hr and the Industrial Scale Line (ISL) operates at ~ 20 tonne/hr. The CFRC is globally unique in allowing for demonstration of manufacturing specifications at two scales of operations.

Lab Scale
Horizontal Vacuum Coater

UAS - Muyang Model:2440SS

Capacity: 500 kg/hr

Mixing device: single shaft paddle mixer

Vacuum pressure: 910 mbar at sea level

Number of nozzles: 3

Cycle time with vacuum, 10% fat, 0.5% enzyme: 6 minutes

Cycle time without vacuum, 10% fat, 0.5% enzyme: 4 minutes

Material: contact parts in stainless steel

Near Infrared Seed Sorter

BoMill Model: TriQ30

Capacity: 3t/hr

Dimensions: W 1.2m x L1.36m x H1.8m

NIR Analyzer

Unity Scientific SpectraStar 2400

Wavelength range: 1200-2400nm
Pilot Scale Line (PSL)
Hammermill

G.J. Vis

Model: VISHM2014

5 t/hr wheat at 700 microns

3600 RPM

800 sq. in screen surface area

Screens:

300 microns 6/64"

500 microns 8/64"

700 microns 10/64"

900 microns 12/64"

Rotary Feeder Model: HMPF14

Magnet

Destoner




Roller Grinder

G.J. Vis

Triple Pair 12" x 20"

9 t/hr wheat at 700 microns

Rolls diameter: 12"

Rolls length 20"

Rolls differential speed ratio 1.6:1

Roll weight 295 kg

Roll-type Feeder

Model: Feeder is integral to mill

Magnet

Scalper

Flaking Mill

A.T. Ferrell

Flaking mill with 24" leg extension

Model: 18x36 Dual Drive

Capacity (flake thickness of 1.5 mm) 5460 kg/hr

Rolls diameter: 18"

Rolls length: 36"

Rolls RPM: 391

Rolls differential speed ratio: 1:01

Roll weight: 1025kg/each

Rotary Feeder

Model: Pin feeder

Capacity: 9000 kg/hr

Rotary size: 4" D x 34" L




Mixer

UAS-Muyang

Model: SLHSJ1

Twin-shaft Paddle

Optimal Loading

Mixing capacity:Â 35.6 cu-ft

Mixing time: 40-60 sec

CV: <5%

Minimum Loading

Mixing capacity: 6 cu-ft

Mixing time: ~ 10 sec

CV: <5%

Maximum Loading

Mixing capacity: 31 cu-ft

Mixing time: ~ 20 sec

CV: <5%

Pellet Conditioner

UAS-Muyang

Model:Â MUTZ350-J Triple layered twin

Capacity: 2-7 t/hr

Steam pressure required: 15-60 psi

Steam flow rate: 330-1100 lbs/hr

Pellet Mill

UAS-Muyang

Model:MUZL350II

Capacity: 2-6.5 t/hr

Die

Inside diameter: 350 mm

Width: 100mm

Thickness: 30-60mm

Working area: 170 sq in

Holes area: 4.0mm die, 35% perforated

Material: X46Cr13

Weight: ~ 55kg

Peripherical speed: 6.5 m/s

Rolls

Quantity: 2

Diameter: 150 mm

Width: 106 mm

Material: 20CrMn

Extruder

UAS-Muyang

Extruder Model: MY56X2

Conditioner Model: SBTZ10

Conditioner

Capacity: 0.3-0.8 t/hr

Steam pressure required: 15-30 psi

Steam flow rate: 60-110 lbs/hr

Water flow rate: 20-40 lbs/hr

Extruder

Capacity: 70-550 lbs/hr

Screw diameter: 2.25 inches each

Twin screw

Material: Alloy

Steam pressure required: 80-100 psi

Steam flow rate: 50 lbs/hr

Counter Flow Cooler

UAS-Muyang

Model: SLNF14X14A

Capacity (pellet 3/16"): 5000 kg/hr

Max outlet product temperature: 5°C above

Moisture reduction: 3.80%

Rotary spreader

Fluid Bed Dryer

UAS-Muyang

p>

Model: ZG 6 x 60

p>

Type of feeder: Gravity/vibratory

Dimensions: W 1.3m x L 6.6m x H 2m

Capacity: 100-500 kg/hr

Drying air temperature: 120oC

Rentention time: 20-40 min

Max outlet product temperature: 50-130oC

p>

Material: Contact parts stainless steel, carbon steel other

Crumbler

UAS-Muyang

Model: MUSL 24 x 110

Capacity: (pellet 3/16") 8000-10000 kg/hr

Rolls diameter: 9.5 in

Rolls length: 43 in

Rolls RPM: 720-480 RPM

Roll Feeder

Model: MU 1100

Roto-shaker Screener

UAS-Muyang

Model: SFJH80x3C

Capacity (4.7mm pellets) 5000-6500 kg/hr

Horizontal Vacuum Coater

UAS-Muyang

Model: SYPZ120

Capacity: 5000 kg/hr

Mixing device: Single shaft paddle mixer

Vacuum pressure: 910 mbar at sea level

Number of nozzles: 6

Cycle time with vacuum, 10% fat, 0.5% enzyme: 6 minutes

Cycle time without vacuum, 10% fat, 0.5% enzyme: 4 minutes

Material: Stainless steel