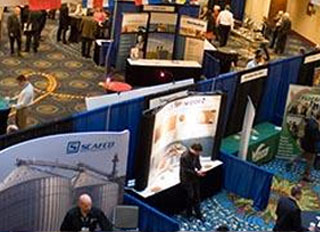 Two trade teams from the rising economic powerhouse of Southeast Asia will meet with U.S. exporters of coarse grains and co-products at Export Exchange 2014, scheduled for Oct. 20 to 22 in Seattle, Washington.
Export Exchange is the premier conference for international buyers and end-users of coarse grains and co-products to network with U.S. suppliers and agribusinesses. It is held every other year by the U.S. Grains Council (USGC) and the Renewable Fuels Association (RFA).
"The potential for Southeast Asian countries is—simply put—remarkable," said Kevin Roepke, USGC regional director of South and Southeast Asia. "In 1990, 60 percent of the population was living on less than $1.25 per day. Today, that number is cut in half to 30 percent of the population living on less than $1.25 per day."
Consumption of food is growing at double digit rates annually throughout the region. The region's meat production has grown from 12 million metric tons in 2004 to almost 18 million tons today, a 50 percent increase. Broiler meat production has doubled since 2004, led by expansions in Indonesia, Thailand and Vietnam. The expansion of livestock production in this feed-deficient region is the primary driver of growth in the trade of coarse grains and their co-products, including distiller's dried grains with solubles (DDGS).
"The region as a whole has a total corn demand of more than 25 million tons (984.2 million bushels), with an annual import demand of more than 8 million tons (315 million bushels)—most of that coming from Indonesia and Vietnam," Roepke said. "At 8 million tons (315 million bushels) of corn imports, that puts the region close to the world's largest corn importers, countries like South Korea and Egypt."
The region also is very interested in corn co-products.
"As a result of USGC programs, Indonesia is now the world's largest importer of corn gluten meal, and Southeast Asia imports more than a million tons of DDGS per year," Roepke said.
Participants from Southeast Asia are scheduled to include representatives from the following companies:
Bangladesh
Islam Group Agro Business Division
Paragon Poultry Ltd
Indonesia
PT. Japfa Comfeed
PT. FKS Multi Agro
PT. Malindo Feedmill Tbk
Malaysia
QL Resources
Hoe Seng Chan
Premier Grain
Department of Veterinary Services
Gold Coin Feedmills
FFM Berhad
TTH Global
Nepal
Shree Daonne Feeds Pvt Ltd
Philippines
Universal Robina Corporation
UNIVET Nutrition and Animal Healthcare Company (UNAHCO)
Sunmade Agri Plus, Inc.
Thailand
J.T. International Trading Ltd
Thai Feed Mills Public Company Limited
Bangkok Produce Merchandising Public Co., Ltd
Ceres Commodities
Sri Lanka
Luxhmi Impex
Vietnam
Minh Viet Feedmill
Austfeed Vietnam Corporation
Dabaco Group
Ha Lan Feedmill
Tan Viet Feedmill
Tuan Minh Company Ltd
Sojitz Vietnam Co., Ltd
In addition to a robust trade show and networking events, Export Exchange 2014 will feature dynamic sessions on the most recent trends related to international grain trade.