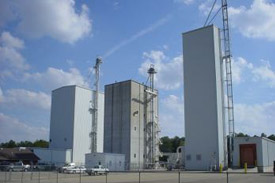 Aviagen's energy-smart poultry feed mill located in Athens, Alabama reduces carbon emissions by 558 MTs per year, while at the same time increasing feed production by 30%.
The newly upgraded poultry feed mill is manufacturing 30 percent more animal feed while at the same time consuming much less energy, bringing down its carbon emissions by 100s of tonnes, along with bringing down its yearly public utility expenses by more than $160,000.
International poultry breeders Aviagen completed a multi-million dollar upgrade of its feed manufacturing plant in June of 2010.
The upgrade increased production capacity with new machinery and processes that make sure the biosecurity of pelletised and crumbled feed for Aviagen's Pedigree operations based in Tennessee and to 115 Aviagen poultry farms located in Alabama.
With a entire 12 months of operation complete, the feed mill is reporting its outcomes: although the facility has raised feed output by over 30 percent, Aviagen's more efficient processing machinery has enabled the company to lower its electricity, gas and diesel expenditure by $169,836 and also reduce its overall carbon dioxide (CO2) emissions by 615 tonnes (558 MTs).
In real life terms, the carbon savings seen in the processing facility, are akin to taking out 126 passenger cars (or 92 pickups and SUVs) off the road for a year, according to EPA approximations.
"Our Athens mill expansion is achieving all our goals," , Aviagen's director of feed production, Richard Obermeyer said. "We grew capacity, ensured biosecurity, and cut costs. But the added benefit is that we enhanced the sustainability of our feed mill operation by reducing energy consumption across the board."