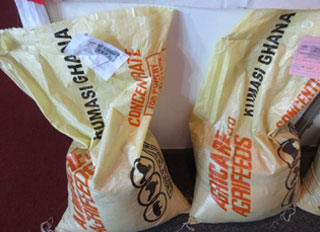 Commercial feed mill, Agricare Limited, has received a large amount of capital from the government, to help boost its poultry feed and concentrates production. The boost comes as the government acts to revamp the poultry industry.
Managing Director of Agricare, Mr. William Awuku Ahiadormey, said the substantial financial and technical support had come on the back of a partnership deal struck with Injaro Agricultural Venture Capital.
With the capital injection, the company is will now have the ability to supply not only the local market, but also the West African sub-regional market.
The feed mill's current production capacity is 250 metric tonnes, which is able to supply feed to servce 2.2 million mature poultry.
Mr. Ahiadormey spoke at the 47th anniversary celebration of the Kumasi-based company. The event provided a platform for the company to exhibit and re-launch three of its products – "5 per cent gold concentrate", "20 per cent layer concentrate" and "layer mash".
The event was attended by officials from the Food and Agriculture Ministry (MOFA), research institutions – Council for Scientific and Industrial Research (CSIR), Kwame Nkrumah University of Science and Technology, University of Cape Coast (UCC), farmers, Association of Ghana Industries (AGI) and the Ghana Feed Millers Association.
There were also representatives from Togo, Benin, Burkina Faso and La Cote D' Ivoire.
Mr. Ahiadormey spoke of plans to introduce an out-grower maize production scheme with local farmers to substantially produce maize, to feed the company's plant.
This, he noted, would significantly help to create job opportunities, especially for the youth.
Mr. Joseph K. Boamah, Chief Director of MOFA, gave the assurance that every effort would be made to increase local poultry production to meet the protein requirement of the population.
He said there was without doubt some challenges but expressed confidence that by working together – all stakeholders, these could be overcome.
He saluted the company for its production of quality feeds and concentrate and encouraged it to continue to put premium on the quality assurance.