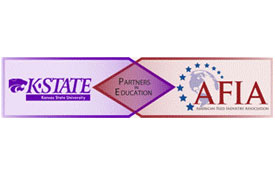 The American Feed Industry Association and Kansas State University are excited to announce another distance learning education program. The course being offered is "AFIA 501-Fundamentals of Feed Manufacturing." The course was developed by the feed technology group in K-State's Department of Grain Science and Industry.
It will provide participants with an in-depth understanding of feed manufacturing. Even employees with years of experience in the feed industry will find this course valuable.
AFIA and K-State have been developing educational programs designed to meet the training needs of feed industry employees and professionals for many years. The benefits of e-learning, a new method of delivery, and mobile learning technologies have proven beneficial in many industries. The course will be offered completely online, saving companies travel expenses and the challenges of being short-handed.
"AFIA 501 – Fundamentals of Feed Manufacturing" will begin January 17, 2011, and it will last a total of five weeks. Course participants may work at their own pace and engage in online discussions about the material presented.
The course will cost $499 for AFIA members and $685 for non-members. Course size is limited to 50 participants so early registration is recommended. To register, contact the American Feed Industry Association by visiting www.afia.org.