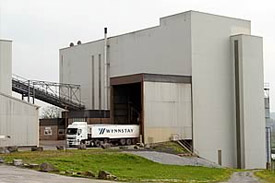 A £250,000 investment project is currently underway at Wynnstay's animal feed mill in Carmarthen to reduce energy consumption at the site and increase overall output capacity.
The Wynnstay feed mill at Carmarthen is the region's leading supplier of animal feeds for dairy and livestock farmers throughout Mid, South and West Wales.
The feed mill at Llysonnen Road, Travellers Rest, supplies a range of compound and blended feeds to the region's dairy, beef and sheep producers and is currently going through a period of re-investment to improve the site's productivity and green credentials.
"The mill is one of the best equipped facilities in Wales and supplies livestock producers throughout Mid, South and West Wales," explains Wynne Lewis, Operations Manager at the Carmarthen mill. "Over the past two years we have invested in a range of new facilities which have not only enabled us to reduce energy consumption at the site, but also to increase productivity to meet an increasing demand for locally produced animal feed."
Key to the site's energy savings is a new inverter which controls the speed of the mill's grinders and allows the milling speed to be automatically adjusted or shut-down according to workload. New product transfer equipment has also been installed to increase the site's overall output capacity and to further reduce energy consumption.
The mill, which was purpose built in 1981, has consistently manufactured an average of 90,000 tonnes in recent years. However, as a result of increased sales activities, which have been augmented by the appointment of a blended feeds specialist in the area, the site has had to increase production to meet the rise in demand. As a result, the mill has broken its own production record by turning out in excess of 100,000 tonnes for the first time in the site's 29 year history.
"The new equipment has enabled us to break the 100,000 tonne per year barrier in as little as 10 months and we are expecting to finish the year by producing a total of 113,000 tonnes," Mr Lewis continues. "This has enabled us to service a growing demand in the area for Wynnstay feeds and we expect the site's final production capacity to reach 125,000 tonnes over the next two years."
"We have also invested in our own fleet of Wynnstay liveried delivery vehicles which have given us the ability to supply bulk feeds to customers along the M4 corridor and as far afield as Bridgwater in Somerset and Swindon in Wiltshire.
"The next phase is to increase the mill's finished product storage capacity so that we can provide an even quicker and more effective service to our customers throughout Wales and beyond," Mr Lewis adds.