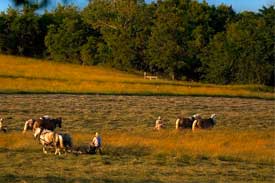 USA - Area grain farmers may have a new local market in the near future. Over the past several weeks local and state officials have been working with Cargill regarding a proposed grain processing mill that could be located in Scotland County.
The community is one of several in the region being considered by the company as a possible location for the new facility.
Representatives of the corporation have held preliminary meetings with county and city officials to discuss the possibility of building a new feed manufacturing facility here. The plant would turn corn into pelletized animal feed.
According to local officials the prospective plant could employ approximately eight full-time positions as well as up to 10 truck drivers and could produce roughly 300,000 tons of feed annually.
The process would involve significant amounts of locally grown corn, which is mixed with various feed additives that are "cooked" in large steam boilers, producing the desired feed pellets, a specialty product normally fed to pork herds. The facility would be a primary source of feed for area concentrated animal feeding operations (CAFO) maintained by or affiliated with the corporation.
Preliminary estimates call for a proposed plant of this size to consume roughly 7 million bushels of corn annually. The process also would use approximately 1 million gallons of water a month.
Presiding County Commissioner Chipper Harris emphasizes that this project is in the earliest feasibility stages.
"We are looking to see IF we can provide the infrastructure and financial incentives for Cargill to locate here," he said.
The County is working with the City of Memphis, the local utility companies, Missouri Offices of Economic Development and Finance and the Missouri Department of Transportation in an effort to be selected as the site for this new facility.
If Cargill locates its new feed plant here, Harris feels that the revenues generated will help Scotland County sustain its agricultural base.
Scotland County has no zoning or public hearing requirements for new industries. Environmental impact and permitting for a feed plant would be handled by the state Department of Natural Resources. At the current time, there are no economic analyses available to the public for this project.
Cargill, the County Commission, City of Memphis and other involved parties will provide future updates on developments related to this feed plant. No timeline has been announced for the decision on the plant location.