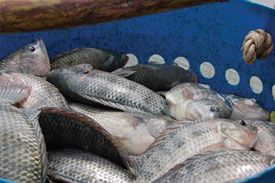 HQ Sustainable Maritime Industries, Inc. (NYSE Amex: HQS) ("HQS" or the "Company"), a leading producer of functional, sustainable Tilapia biomass, including fish and personal healthcare products, today provided an expanded feed mill operations update.
The Company began generating revenue from the feed mill operations in the fourth quarter of 2009 after a successful sales outreach to the cooperative farming community and a positive response from the production of sample feed during the previous period. Additionally, recent ISO 9001 and 22000 certifications for both the seafood and feed mill plants further reflect the Company's focus on superior product quality and food safety management.
"We are pleased by the response from our new clients. These clients include buyers from domestic and international production areas. HQS' state-of-the-art feed mill operations provide us with superior, all-natural, vitamin enriched feed, enhancing the quality of the aquaculture biomass produced for our fish and personal healthcare products," said Norbert Sporns, HQ Sustainable Maritime's President and Chief Executive Officer. "We executed on our product quality and food safety goals. We continue to achieve greater supply chain efficiencies as we execute on our strategic growth initiatives in 2010 and beyond."
The Company expects to announce fourth quarter and full year 2009 financial results during March of 2010.
About HQ Sustainable Maritime Industries, Inc.
HQ Sustainable Maritime Industries, Inc. is a leader in the production and marketing of functional, sustainable, biomass products focused on Tilapia aquaculture through vertically integrated operations. HQS practices cooperative farming of sustainable aquaculture, using all-natural enriched feeds. The Company produces and sells wholesale feed products as well as retail focused nutraceutical and health products including Omojo branded health products through direct and franchise sales in China. Additionally, the Company produces and sells Lillian's Healthy Gourmet Meals and other fish products in the United States. The Company conducts fish processing, production and sales with operations based in the island province of Hainan, in the South China Sea. The Company holds HACCP and GMP certification from the U.S. FDA and the EU Code assignment of quality, permitting its products to be sold in these international markets. It has also achieved the ISO 9001 quality management system standards certification and the ISO 22000 certification for quality in food safety. The Aquaculture Certification Council, Inc. certified that HQS tilapia farming and processing standards met Best Aquaculture Practices and Moody International Certification Ltd. The Company's certified co-op farming and processing are in conformity with the new Global G.A.P., the Global Partnership for Good Agriculture Practice, standards for Tilapia. The Chinese government gave organic certification to the Company's tilapia processing, production, labeling, marketing and management system. A new Feed Mill has been completed producing principally Tilapia feed and is capable of 100,000 MT annual production. In addition to headquarters in Seattle, HQ has operational offices in Wenchang, Hainan.