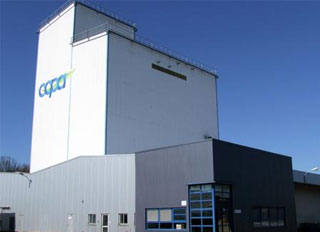 Conseils et Compétences en Productions Animales Group (CCPA Group), a French animal feed products and services company, recently opened a new laboratory and testing facility on the site of their headquarters and factory in Janzé, France.
During the inauguration of the new laboratory, coinciding with the 20th anniversary of the company being located at its current site in Janzé, the company recieved a large number of visitors to the facilities.
Specialising in animal nutrition and health, CCPA Group is positioned as a leading manufacturer of premixes (mixtures of micronutrients, vitamins, and other ingredients integrated into live-stock feed) in France. Along with premixes, the company also provides feed additives, feed specialties and provides consultation, formulation help, technological audits, nutrition support and laboratory analyses.
The CCPA Group is active in all regions of France, with the equivalent of 2.3 million tonnes of compound feed manufactured using its technology. 43% of its turnover is made abroad, in 2010 its revenues were around €75 million.
CCPA's feed laboratory was first established in Janzé 20 years ago. It focuses on biology and physical-chemical analysis and carries out greater than 43 thousand analyses on raw materials, compound feed and premixes, per annum.
The laboratory with a team of engineers, vets and technicians along with a variety of technology, analysis equipment and ISO 17025 accreditations, provides services and consultations to customers and also develops new analysis and diagnosis methods.
Every year CCPA Group invests more than FRA$1.2 million in research and development. From 2006, more than 50 of CCPA Group's scientific articles were published in international scientific reviews.