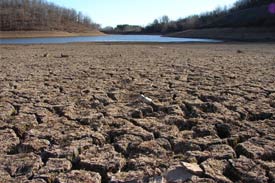 South Africa - The Western Cape government says it will pay the transport costs of farmers in the province who want to donate feed to the drought-stricken Southern Cape.
Agriculture MEC Gerrit van Rensburg said on Tuesday the measure was independent from national government's disaster relief programmes.
It should be seen as "a Christmas gesture" from his department to the Southern Cape farmers, he said.
Farmers who needed feed, and farmers who had an abundance of feed and wanted to help, should contact Agri Wescape, the Milk Producers Organisation, or the department. The department would reimburse donors using own transport or contractors according to Automobile Association tariffs.
This measure would stay in place as long as the department could source funds to support it, Van Rensburg said.
Earlier on Tuesday it was reported that farmers in the drought-stricken area could face massive new water restrictions in the New Year.