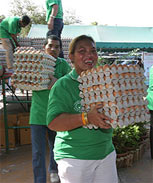 Charoen Pokphand Foods Plc, the SET-listed flagship of the Charoen Pokphand Group, has added African countries to its investment plan next year as part of its aggressive expansion abroad.
It will start with feed and chicken farm operations in Kenya and Tanzania, where each operation is expected to cost US$3 million initially, said Adirek Sripratak, president and chief executive officer of CPF.
CPF teams including Mr Adirek have visited the two countries several times over the past few years and found strong business potential in supplying meat for their combined population of 82 million.
He said that CPF had been well received by local people in the two countries, encouraging the company to consider further operations in Africa. Nigeria would be next in line.
The fresh investment is part of the 5 billion baht CPF earmarked locally and abroad in 2010, with 50% going to the Thai market.
While farm expansion overseas is being accelerated, CPF plans to trim investment in farm businesses in Thailand but put more money into cooked and ready-to-eat meals, which have contributed healthy profits to the company, estimated at more than 10 billion baht this year.
"From now on, investment in farms such as in chicken, swine and marine products would be very little. We've tried to lower our role in commodity trade," he said.
Mr Adirek said that the healthy profit from value-added products has proven that the company had chosen the right direction to become a food provider rather than a commodity trader.
The attempt also reflects a desire to create an equal balance in the company's revenue structure from farms (currently 45%), feed (35%) and food (20%) under a five-year plan. CPF's sale revenue is estimated at 160 billion baht this year.
Reducing its role in the primary farm sector would not only reduce business risks either from epidemics or price fluctuations but would help the company promote sustainable profits.
Mr Adirek said the rising contribution from food products had lifted net profits in the first nine months to 8.07 billion baht, up from 2.82 billion in the same period last year.
CPF's sales in 2010 are forecast to rise by 10% to 170 billion baht on strong domestic sales and exports. For the domestic market, it plans to increase the number of retail distribution outlets, CP Freshmart to 2,000 stores, and 5-Star Chicken kiosks to 3,000 units over the next few years.
Significant revenues from offshore investments, notably in Russia and Turkey, are also expected next year, he said.
CPF aims to export about 100,000 tonnes of chicken meat and 50,000 tonnes of shrimp products in 2010, up from about 95,000 and 35,000 tonnes this year. "All products are sold under the CP brand and this would lift sales from food to nearly 25% next year," Mr Adirek said.
"When the figure reaches 35%, it could allow us to strengthen and promote the brand in international markets more widely, and featuring it in the English Premier League is in the plan," he added.
CPF shares closed on Friday on the SET at 11.20 baht, down 10 satang, in trade worth 274.9 million baht.