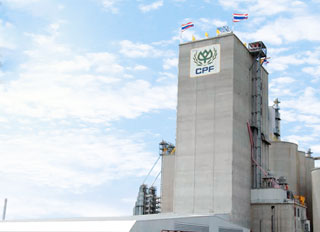 Charoen Pokphand Foods (CPF) has reported two deals in China under it's CPP Hong Kong arm. In the first, CPP acquired Kaifeng Chia Tai, an animal feed business in China at a cost of 311mn RMB or Bt1.6bn, reflecting a PER of 10.7x at the purchase price. In the second, CPP sold a non core business, Rapid Thrive (involved in a JV in the motorcycle business in China) for US$49.5mn or Bt1.6bn based on PER of 17x at the selling price. Since these two deals provided an offset, CPP did not need to put out any extra cash. Management feels good about getting out of a non-core business and expanding in a core business, which it sees as strengthening CPP.
Best Thai performer in the 1st quarter of 2014 was the livestock business, with a 16.4% gross margin vs. 9.3% in 1Q13 and 14.3% in the 4th Quarter if 2013, most notably for swine. Current swine price is a very good Bt80/kg, sufficient to offset the higher prices for feed raw materials. The shrimp business has yet to revive, with a -7.5% gross margin, worse than -0.1% in 1Q13 and -5.9% in the 4th Quarter if 2013.
Management says gross margin may continue in the negatives throughout this year but sees glimmerings of a turnaround. When all businesses get back to normal, CPF expects to regain its wide margin sometime before the end of 2014. Livestock is expected to be the star performer again in the 2nd Quarter of 2014.
Overseas business in the 1st quarter of 2014. Vietnam activities (under CPP) climbed back up out of the low of a 3% gross margin in mid-2013 to over 10% in the 1st quarter of 2014. Businesses in Turkey reached breakeven with zero loss in the 1st quarter of 2014, achieving the year's goal. Several countries showed improved performances for swine, broiler and shrimp businesses. The strongest turnaround was in Vietnam with 34percent sales growth in the 1st quarter of 2014 after 31% growth in the 4th Quarter if 2013. Shrimp units in India and Malaysia were also better, turning up from a loss in 2013 to breakeven in the 1st quarter of 2014.
CPF began the first quarter of the year very well, with real operating profit as opposed to extraordinary items. We expect this to be repeated in the 2nd Quarter of 2014, for which we estimate net profit of Bt2.4bn. Most of CPF's businesses are operating within our estimates, the sole exception being shrimp, for which the turnaround is slower than hoped. Businesses are doing very well in China and Vietnam through CPP (Hong Kong). We continue to rate CPF a BUY with a target price of Bt35 (based on 2014 PER of 16x).