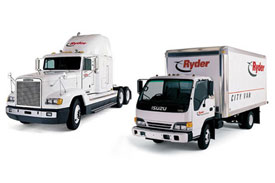 Ryder System, Inc. (NYSE: R), a leader in transportation and supply chain management solutions, today announced it has been awarded a Dedicated Contract Carriage (DCC) contract with Southeast Milk, Inc., a cooperative and marketer of nearly three billion pounds of milk annually.
"Southeast Milk needed a partner who could take over our Feed Mill Division's private fleet operations to control costs, reduce liability and increase operational performance and service for our customers," said Pamela Yoder, Trucking Division General Manager for Southeast Milk, Inc. "We have confidence in Ryder's transportation and logistics capabilities and expertise to drive operational excellence throughout our operations."
Under the contract, Ryder will assume the Southeast Milk, Inc. Feed Mill Division fleet responsibilities supporting their dedicated delivery services from Plant City, Fla. cooperative customers throughout Florida and Georgia. The turnkey package includes 32 vehicles, drivers, fleet management, and preventive and programmed maintenance for the equipment.
Ryder's DCC service is a customized suite of transportation management services for the delivery of a customer's products that optimizes its fleet operations and allows its management to be more focused on core business issues.
"Ryder looks forward to optimizing the Feed Mill Division fleet operations and standardizing practices to drive cost-savings while maintaining and improving customer service levels," said John Sonia, Ryder's Vice President of Operations, Dedicated Contract Carriage.
About Southeast Milk, Inc.
Southeast Milk, Inc. was created on October 1, 1998, with the merger of two Florida dairy cooperatives, Florida Dairy Farmers' Association and Tampa Independent Dairy Farmers' Association, Inc. The two predecessor cooperatives developed separately, but the growth of the two moved in parallel lines. TIDFA's original group of dairy farmers formed a cooperative in 1948, with incorporation as TIDFA in 1967; FDFA's was first chartered in 1956, but the aim of both cooperatives was to more efficiently market their members' milk. Each cooperative formed its own trucking department to haul the milk, TIDFA in 1969 and FDFA in 1973. Through the years, both cooperatives merged with other cooperatives and expanded their membership. In 1998, it was agreed that the future of Florida dairy farmers could best be served by merger of the two cooperatives. SMI presently markets just under three billion pounds of milk annually.
About Ryder
Ryder provides leading-edge transportation, logistics and supply chain management solutions worldwide. Ryder's stock (NYSE: R) is a component of the Dow Jones Transportation Average and the Standard & Poor's 500 Index. Ryder ranks 399th on the Fortune 500. For more information on Ryder System, Inc., visit www.ryder.com.