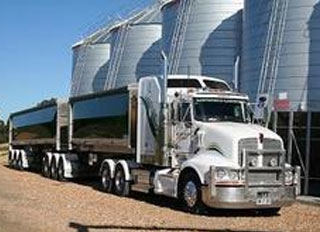 Family owned transport business 'We Us An Co' are aiming to expand and grow business with their newly completed AUD$1 million livestock feed mill.
The feed mill located in Lucindale, South Australia will produce prescription loose-mix rations, and comprises of 10 new silos (300 tonnes each) along with significant grain handling and mixing equipment.
Operated by brothers Scott and Gavin Rayner - the only Lucindale "value add" to their existing transport and grain warehousing business.
Speaking about the new mill, Mr Rayner said "We are carting canola meal in from Melbourne and Shepparton, Vic, and then carting in all the other ingredients and then the mixes are going out to dairies around Mount Gambier - it just brings everything together," .
"We are perfectly located with graingrowing areas across the border only an hour away and more grain grown here in the past decade or so, and then the dairies are not far south."
The feed mill has now been in operation for 3 month. The company has set a goal of processing 5000 tonnes of grain in the mill's first year of opertaion. They aim to grow this eventually to 10,000 tonnes per year, taking in grain from the surrounding area between Goroke to Millicent.
Most of the feed their produce is for dairy farms, but the company is also supplying feed-lots, along with producing tailor mixes for other livestock including horses, sheep and cattle.
Mr Rayner said "We have been pleasantly surprised how much interest there has been in the new venture. Years ago we started storing sunflowers for Cargill Oilseeds with four old silos and a grain shed, but now have more than 5000t of storage and that might not be enough."
The feed mill comprises of a conveyer belt which delivers grain from the 300 tonne cone-bottom silos, the grain is then loaded into bucket elevators, before being processed through the roller mill.
The crushed grains are then mixed with other additives such as trace elements, salt and anti-bloat agents to a nutritionist's recommendations before it is out loaded onto a semi-trailer or into 1 tonne feed bulk bags.