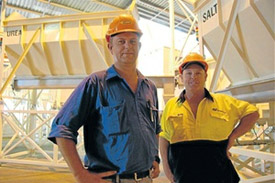 Integrated Stock Feed's (ISF) has opened its new feed mill in Moree, NSW, after more than 3 years of planning and with an investment of over $8 million for land, equipment, research and development of the project.
The new purpose-made feed factory is anticipated to tap the North West's plentiful grain and cotton seed supplies. Utilising supplies of cotton seed meal, the high protein by product of the production of vegetable oil to manufacture a new range of livestock nutrition feed supplements.
Strategically placed around a copious supply of oilseed ingredients from broad-acre cultivating regions of northern NSW. Wares from the feed plant at Moree will then be transported north to outlets in Queensland or south into South Australia and Victoria.
Dominic Devine, ISF's chairman believes that the new plant represented a major chance for producers to increase their on-farm productiveness with a assortment of formulations available from the Moree production plant.
Mr Devine stated that "ISF's range has been designed to replace the deficiencies in pastures, we've got phosphorus-based products for use in summer months and for sulphur country, there's a sulphur-based product,"
"We've done a lot of work on product development and fine-tuning our core products to target the beef, sheep and dairy markets." Mr Devine said.
"Effective protein and mineral supplementation programs significantly improve the profitability of beef and lamb production, while dairy production is increasingly reliant on concentrated protein and energy supplementation."
The production plant has been licensed to manufacture 100,000 MTs of cotton seed per year, and the finishing up of a second stage of expansion is set to see the production line extended to allow on-site production of oilseed into the protein meal base.
It will utilise a mechanical process to distill the cotton seed meal, which is cleaner than the a lot more common procedure of chemical extraction, and outcomes in a base protein with higher energy content and better palatableness, and is more worthful than established solvent material.
"The heat in the processing protects the protein which translates into it staying in the animal's rumen longer." Mr Devine said.
"The science behind it is not new, but the way we're doing it is different."
ISF has an exclusive contract with Landmark for the distribution of its range of prepacked products, with a branch-by-branch product rollout already afoot.