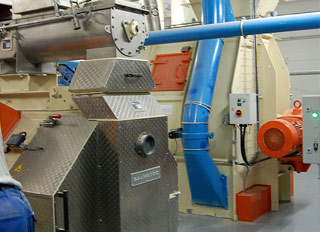 The Vechta region in NE Germany has seen strong growth, aided by the unexpectedly strong performance of BDW Feedmill systems and other animal husbandry machinery manufacturers in the area.
BDW Feedmill systems is a joint subsidisary set-up over 5 years ago by feed machinery manufacturers, H. Wolking Mühlen-und Maschinenbau GmbH & Co. KG and the world renowned Big Dutchman, manufacturers of poultry, egg and swine equipment and solutions.
The JV was specifically setup to serve the Russia and other CIS countries markets, where in recent years has seen a boom in the investment in the feed milling and animal husbandry sectors. BDW Feedmill systems specialises in the planning, production and setting up of systems for the production of animal feed.
Wolking Mühlen-und Maschinenbau is a traditional family enterprise working on the field of mill construction for four generations now. Planning, production, delivery and assembly of individual components through to turn-key mixed feed plants build up their range of activities.
Managing director of Wolking Mühlen- und Maschinenbau, Heinrich Wolking said "The company lives of clusters formed in the region", the region is the home to a number of businesses in the business of animal health, livestock husbandry and breeding. This helps the area to thrive and H.Wolking says "go hand in hand with (the company's) core business"
BDW Feedmill systems continues to grow and last year employed an additional 13 employees, giving the region a boost in jobs. Analysts were suprised by the strong performance, and would like to see Vecta's experience applied to other regions in Germany.
150 truckloads of feed machinery are due to leave its factory in next few weeks, bound for the assembly of a giant Russian animal feed mill.