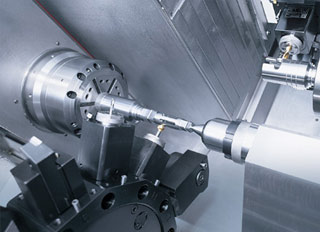 Last month, February 2012, the new rotary milling DMG CTX beta 1250 became operational within the mechanical department at Van Aarsen Machinefabriek.
The investment in this combined machine fits seamlessly into our production automation philosophy and company growth. This DMG machine is the able to combine turning and milling operations on one machine, with respect to the highest accuracy and strongly reduced changeover and production times.
The machine is equipped with a high power drive with a spindle bore of 102mm for machining long shafts or the throughput of bar stock.
The machine is equipped with an automatic chuck, 16 positions tool turret, a controlled movable steady, an automatically traversable tail stock and automatic chip removal.
The CTX beta 1250 is especially for Van Aarsen equipped with a Direct Drive TRIFIX revolver, which guarantees extra power to the driven tools. The inclusion of this TRIFIX revolver guarantees an exchange accuracy in the µ-range while also increasing the stability.
We chose tools with the innovative Capto system. Herewith the set-up times can be reduced to a minimum.
The machine programming is done on a remote workstation using the CAM software with simultaneous EDGE CAM module.