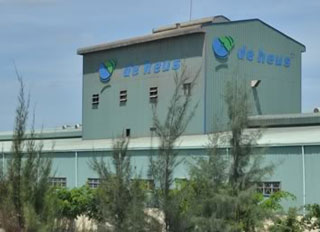 The Vinh Long provincial People's Committee have just approved a written policy allowing for the construction of a USD$15 million cattle feed mill in Mang Thit District, Vinh Long Province.
The feed mill had been proposed by Dutch animal feed manufacturers De Heus LLC, who plan to build the feed mill on piece of land with an area of 4.6 hectares.
De Heus LLC (Vietnam) currently operates four feed production facilities in Vietnam, with animal feed factories in Binh Duong, Dong Nai and Hai Phong and the new aquafeed factory in Vinh Long which opened earlier this year.
The policy approving the construction of the feed mill is valid for 12 months from the date of approval, and if De Heus does not implement the project within the time then the policy will expire and be revoked.
Vinh Long Province located on the Mekong Delta, is currently looking to attract more investment projects to the area area.
The provincial People's Committee stated that the province currently had 47 projects awaiting investors through to 2015, with the projects having a total expected budget of more than VND23 trillion (USD$1.09 billion). Meanwhile investors had committed money to 159 projectsso far, with a total registered capital of VND4 trillion (USD$190.5 million)
The delta remains a backward region compared with other regions in the country, but has great potential with the suitability for the production of agri-products such as rice, fruit and fish.
The Hoa Phu Industrial Zone located in Vinh Long province is already home to four aqua feed mills, which have a total capacity of 5,000 tonnes a month.