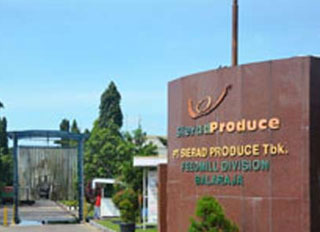 Animal feed producer and poultry breeder Sierad Produce will invest Rp 350 billion (USD$31.2 million) for capital expenditure this year, with plans to set up five commercial farms and a feed mill to meet rising demand in Indonesia.
In spite of a weakening currency, they will go ahead with the building of the feed mill in Sulawesi that will have a production capacity of 20 metric tonnes of poultry feed per hour. Sulawesi was selected, the company said, as it offered low cost raw materials.
Investment in the feed mill is estimated at Rp 30 billion (USD$2.7 million), and is part of the company's Rp 3.9 trillion two-year program to expand its production capacity and breed more day-old chicks.
There is increased demand in the country as Indonesians have turned to meat products with rising incomes which have allowed them more choice in their eating habits. Sierad's main competitors in the animal feed industry include Charoen Pokphand and Japfa Comfeed.
The company has recently been forced to increase prices by up to 15% due to currency depreciation of the Indonesian Rupiah.
A spokesperson for Sierad Produce, Hudya Indah Panggita, said "We are reacting to the fall in the rupiah against the dollar in recent months." They then went on to explain that the company sourced 70% of its raw materials from the United States, Brazil, Argentina and India making them susceptible to currency fluctuations.
So far this year the Indonesian Rupiah has fallen 18% against the USD, making imports costlier for Indonesian companies. Hudya said that before the prices increase, that the company was set to meet its projected revenue targets this year of Rp 5 trillion (USD$451 million).
In the first six months of this year, Sierad Produce saw its net income drop to Rp 5.12 billion from Rp 21.47 billion a year earlier while revenues climbed 5.4 percent to Rp 2.1 trillion over the same period.