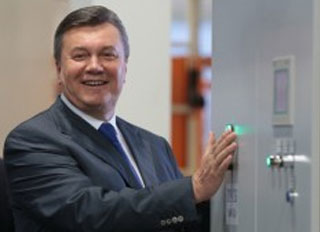 The President of Ukraine, Viktor Yanukovych took part in the opening of a new animal feed premixes and concentrates plant in s.Orlivschyna Novomoskovsky, Dnipropetrovsk region.
The plant built by the Ukrainian company Inbel, is the first of its kind in the country, and is one of the most modern and powerful in Europe. The production capacity of the plant is 36,000 tonnes per annum, which would go towards the production of 6 million tonnes of animal feed.
The feed premix and concentrates plant will not only provide to the local market in the Dnipropetrovsk region and the rest of the country, but will also be exported abroad. 60% of production is expected to meet the domestic demand for feed premixes and concentrates, while the remaining 40% would be exported.
Viktor Yanukovych pressed the button at the plant to mark the start of its operations. Also at the opening of the plant was Chairman of Dnipropetrovsk Regional State Administration, Dmitry Kolesnikov.
At the launch Yanukovych said that rural development was one of the priorities of the state. He said that the agriculture industry provides food security for te people in the country as well as helping to stabilise food prices.
Construction of the Inbel's plant for the production of animal feed premixes and concentrates began in 2011. Previously premixes and feed supplements were not produced in the country and local feed producers had to import these.

The plant is equipped with the latest technology, with the total investment for project amounting to UAH136 million (USD$16.4 million)
The plant was bulit by BDW Feedmill Systems, a German company specializing in the design and construction of feed mill projects, specifically in the Eastern European states and Russia.