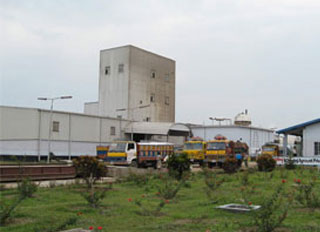 Work on a new state of the art poultry feed mill started on Wednesday, with a bhoomi pujan (ground breaking ceremony) held to inaugurate the site. Bhoomi Puja is an Indian ceremony performed to inaugurate a new site, before the commencement of works.
The feed mill being set up by Godrej Agrovet, an Indian company engaged in agro based and poultry based products, will be located in Hajipur, Bihar.
Agricultural minister Narendra Singh was present at the ceremony, who also unveiled the foundation stone to mark the commencement of construction work. The plant will be constructed on a five-acre BIADA plot in the industrial area at Hajipur.
The construction of the feed mill comes at a time that the state government is trying to lure more investment into the region. The state of Bihar has introduced a new industrial policy and an incentive policy for agro-based industries, CM Nitish Kumar revealed at a function on Wednesday.
Manageing director of Godrej Agrovet, Balram Yadav, said that theproposed feed mill will have an initial production capacity of 10,000 tonnes per month, with a option to double capacity in the future.
He said the initial outlay for this project is around Rs 75 crore (USD$12 million) and the production is expected to start by early December 2014. Poultry has emerged as the fastest growing segment not only in livestock sector but also in agriculture sector, said Yadav.
Godrej Agrovet's interest in expanding their feed business was previously reported on feedmachinery.com here.