Today the governor of Bryansk Oblast in Russia, Nikolai Denin visited several sites of agribusiness company ABH Miratorg, including their newly constructed feed mill.
In the Vygonichskom region of Bryansk, the governor visited the new feed mill which will have a 60t/h production capcaity, as well as a grain storage warehouse with a capacity of 96,000 tonnes. The feed mill currently nearing completition is expected to completed and operational by May this year.
Prior to the new harvest the company planned to use imported raw materials for its feeds, but planned at a later date to use locally harvested grain sourced from the Bryansk region farmers.
The compound mixed feed plant, was built using the latest state-of-the-art equipment, with the company again choosing Dutch manufacturers Ottevanger Milling Engineers for the machinery and construction of the project.
Miratorg invested RUB 2.2 billion (USD$67 million) in the new feed mill and grain storage facility.
When the new feed mill is put into operation, it will bring Miratorg Agribusiness Holding's total feed production capacity from its 4 feed mills up to 1.46 million tonnes per annum. This figure is expected to be enough to satisfy the company's internal feed demands, to feed the group's 2.7 million pigs, and 9 million birds.
The governor of Bryansk also visited the company's new poultry breeding facility in Trubchevsk district, as well as a meat breeding facility .
See below for some progress photos of the construction of the feed mill.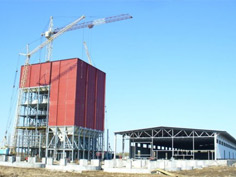 ABH Miratorg are the number one pork producer and feedstuff producer in Russia. The company is a leading investor in the Russian agribusiness industry, investing in excess of RUB 90 billion (USD$2.8 billion) in production, processing and agro-industrial infrastructure facilities, in the period from 2005-2011.