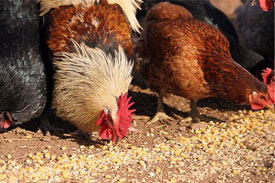 Officials in Germany are investigating whether products containing poisonous dioxins were fraudulently passed off as being safe for use in animal feed as they try to determine how eggs and poultry were contaminated.
A warning from the European Commission that the incident "must be pursued with urgency and effectiveness" came as it emerged potentially contaminated feed fat was mixed with feed made for laying hens, chickens, cattle and pigs.
The German authorities have now closed 4,700 farms, almost five times as many as after the case first came to their attention late last month. While Berlin has recalled eggs from hen farms supplied with contaminated feed, no other products have been recalled.
The problem was first considered to be confined to Germany, but concern intensified when it emerged that more than 130,000 potentially contaminated eggs and egg products had been exported from Germany to Dutch companies and from them to British food producers.
Although dioxins can contribute to cancer and cause health problems for pregnant women, officials have said the risk to humans from the present scare appears negligible. However, the extent of any contamination of food products has yet to be fully determined.
At issue in the investigation is how fatty acids containing excessive dioxin levels came to be mixed with vegetable feed fat used in the production of compound feed for animals. Such acids can be used safely for industrial purposes but not in the food chain.
While German health officials were alerted to concern about the dioxins on December 27th, reports yesterday suggested excessive levels were detected by a private laboratory as early as March. A "high level of illegal activity" is now under investigation, according to Germany's agriculture ministry.
While EU health and consumer policy commissioner John Dalli issued a statement to say the "proper management" of the incident was of the utmost importance, his spokesman said the European Commission said this did not reflect any lack of confidence in the German response.
The European authorities are considering new measures to prevent fats made for technical purposes being mixed with fats for feed and food. "These measures should concern the production and transport levels," the commission said.
The head of Germany's ministry briefed senior commission officials in Brussels yesterday morning and a committee of officials from member states is to discuss the response to the affair on Tuesday and Wednesday.
The German authorities first alerted Brussels on December 27th that a 26-tonne consignment of contaminated fatty acids had been mixed with 500 tonnes of vegetable feed fat. The acid was produced by a biodiesel company and mixed by a feed fat producer.
Last Monday, however, it emerged that another six consignments of contaminated acid had been delivered to the feed fat producer. This led the German authorities to conclude that all feed fat produced by the company since November 11th was potentially contaminated, raising questions over some 3,000 tonnes of feed.
It emerged yesterday that the food scare might have been triggered when a German company bought old chip fat from a foreign biodiesel producer for use in its own animal feed production.
Tests conducted by Harles and Jentzsch, a feed production company in northern Germany, revealed that fat used to enrich animal feed contained up to 58.17 nanograms of dioxin per kg. The acceptable limit is 0.75 nanograms.
It has also emerged tht another company involved in the scandal was registered only as a transport company and not an animal feed producer, placing it beyond state controls. Farming unions have called for €100 million compensation from the feed industry. Farms have been shut down in 11 of Germany's 16 federal states; Lower Saxony being the worst hit, with almost 3,000 tonnes of contaminated feed.