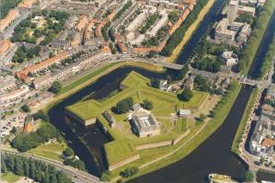 Netherlands' second largest feed cooperative ForFarmers has acquired four hectares of land in the town of Oss in the south of the country. This is a first step in the realisation of a new feed processing plant.
The block of land has direct access to the river Meuse, which allows for receiving vessels up to 3.000 tonnes. It is also located close the main highways. The purchase fits in ForFarmers long term planning to further grow in the south of the Netherlands. Last year turnover in this area has increased by 22pc. It is also quite a unique step in the Dutch saturated feed milling industry to build a new plant.
Headquarters and main feed plant of ForFarmers (pictured) is in Lochem in the centre-east of the country and logistics has become a cost issue for supplying farmers in the south. The new plant will increase efficiency in supplying these farmers. The cooperative did not give any details about the new plant, but it said it will be a factory using the most modern technology.
In terms of efficiency it is assumable that the plant will churn out approximately 300.000 tonnes per year. Competition in the south will become stronger, since ForFarmers is entering the area of Cehave-Landbouwbelang, the largest cooperative in the Netherlands, which has a manufacturing plant in Veghel, not far from Oss. ForFarmers employs about 800 people and had a turnover of €3,5 billion in 2009 and sold 2,7 million tonnes of feed in that year. The company operates feed mills in the Netherlands and Germany. 2010 figures have not been released yet.