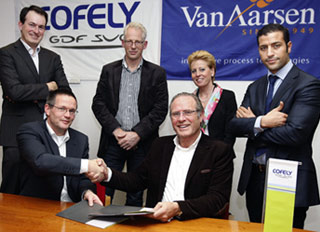 Cofely Industrial Automation and Van Aarsen have closed an international partnership deal for the next three years. The basis of this agreement is the Cofely MES Toolbox: A modular solution for process control and optimization. Van Aarsen will apply this operating system to customer projects in the international animal feed market, with the exception of the Benelux. It is currently being implemented in a major project in Saudi Arabia and intended for projects to follow soon in Sweden and Russia. This partnership enables Cofely to strengthen its leading position in the market for industrial automation in animal feed companies.
Van Aarsen has chosen for the Cofely MES Toolbox because of the increasing customer demand for this particular operating system and Cofely having developed a specific version for the animal feed market. Conny Vluggen, Vice Managing Director of Van Aarsen quoted "To be able to make the right decisions in the production process, accurate information on production equipment, raw materials and stock is a requirement. With the Cofely MES software our customers will get real-time insight into these processes. The operating system brings with it substantial cost savings and has a very reliable Track & Trace system for products."
Martin Zuurbier, CEO of Industrial Automation Cofely quoted "We are proud we can bundle our forces with Van Aarsen in the international feed market bundle. Cofely has a leading position in this market with leading Dutch clients such as ForFarmers, De Heus, Boerenbond Deurne and De Valk. Van Aarsen has a worldwide network of resellers and agents, through which Cofely now has an international sales channel to implement the MES Toolbox more thoroughly in the market."
MES Toolbox
The Cofely MES Toolbox is a modular and scalable software platform for automating batch processes as well as for continuous and discrete processes. The platform consists of a number of generic software building blocks which support the so called Manufacturing Execution Systems (MES). The result of this is that the required MES-functionality is achieved with a minimum amount of custom software. The software is completely web-based, which renders the installation of specific software and the purchase of costly licenses superfluous and at the same time enable use with different PLCs via Ethernet/OPC. In addition, interfaces for weighers and RFID and barcode readers are available and through which the industry standards ISA-88 and ISA-95 are constantly maintained. The process visualization and MES functions are integrated in the Cofely MES Toolbox. For example, in real time the performance analysis tool shows graphically where possible bottlenecks in the production process can arise.
Cofely is the European leader in the field of sustainable technological solutions for energy and environment. They design and implement solutions enabling companies and public organizations to optimize the performance of installations and the energy use of business processes and to restrict environmental impact to a minimum. Cofely offers a unique combination of expertise in different areas, from the design, installation and management of local and renewable energy solutions to the operational delivery of integrated facilities and services.
Cofely is the key brand of GDF SUEZ Energy Services - one of six business units of GDF SUEZ - which has 76,000 employees and a turnover of 13.5 billion euros realized in 2010. In 2010 Cofely counted in the Netherlands approximately 7,000 employees and achieved a turnover of over 1 billion. GDF SUEZ is one of the largest energy suppliers in the world. Its service covers the entire energy chain from electricity and natural gas. The Group employs over 220,000 people worldwide and achieved a turnover of 84.5 billion euros in 2010.