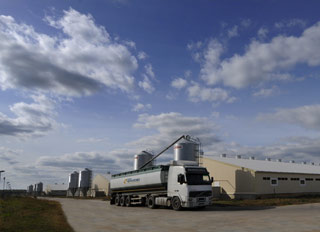 Cherkizovo Group, the largest meat manufacturer in Russia saw an increase in revenues of 7% on a US Dollar basis. From $1,472.6 million for 2011 to 1,581.7 million in 2012.
The year saw continued development of Elets integrated poultry production facility, with construction started on new elevator; and sourcing underway for a 120 tonnes per hour feed mill supplier.
The company also reached agreement to acquire agricultural assets located in Central Russia, comprising a swine nucleus unit in the Voronezh region, grain storage facilities in the Voronezh and Penza regions (total capacity exceeding 200,000 tonnes), a feed mill (currently under construction), and a land bank of approximately 30,000 ha in the Voronezh region.
Cherkizovo Group is the largest meat manufacturer in Russia and one of the top three companies serving Russia's poultry, pork and meat processing markets. The company is also Russia's largest producer of fodder.
In the past 5 years the company has invested more than $ 1 billion into the development of Russia's agriculture sector. In addition to existing production facilities, the Group has also invested in a 20 billion rouble high technology agro-industrial production complex in Elets, Lipetsk region.