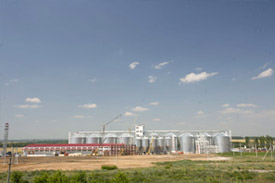 The total mixed feed output volume in the 1st quarter for Russian feed producers ABH Miratorg was 163,370 tonnes, 134.61% greater than 2011 where it was 69,635 tonnes.
They plan to commission their 3rd feed manufacturing plant sometime in 2012, which will be located in the Belgorod region. The feed mill will have a production capacity of 360,000 tonnes, bringing an anticipated total production capacity annually of 1.1 million tonnes for the 3 feed mills located in the Belgorod region.
The calculated volume of mixed feed production in 2012 is 762,700 tonnes, which ABH Miratorg states will make it possible to provide swine feed for 2.1 million pigs in 2012 for the ABH pig farms. At present ABH Miratorg is the principal manufacturer of mixed feed in Russia.
In ABH Miratorg's poultry project, a feed mill equipped with elevator, poultry slaughtering facilties, poultry processing complex, in addition to as 3 broiler production units out of the 7 planned in the Vygonichskiy district of the Bryansk region are at currently under construction.